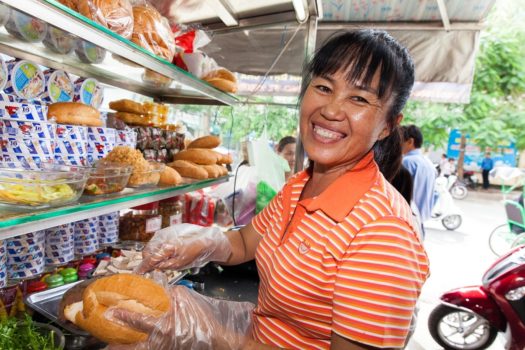 In Vietnam according to World Bank, the proportion of the population living below the national poverty line (GSO-WB Poverty line) considerably dropped reaching 13.5 percent in 2014—down from close to 60 percent in 1993. More than 40 million people escaped poverty over the course of two decades. Now Vietnam is considered as middle income country but is still characterized by an important informal sector, which consists of 10 million of informal household businesses operating on the fringe of the economy. Despite its size, the informal sector suffers from a lack of interest from public authorities. In particular, informal household businesses, among which a large portion of itinerant street vendors, are facing difficulties, such as lack of access to technical and accounting training, capacity building, market, credit, legal and tax information.
IECD is an international solidarity organization, its mission is to create environments that allow everyone to build their future in a more equitable society. IECD and its local partner, the Social Development Training Center (SDTC) have launched since 2013 the Micro and Small Entrepreneurs Support Program (MSE Support Program) in Ho Chi Minh City. In 2017, a total of 892 participants have benefited from this program.
What do they do?
 The MSE program act as a "business school for street vendors working in the informal sector" and the objective is to accompany these entrepreneurs to structure their business and to reinforce their capacity to run their activities more effectively and sustainably, thus generating better income for them and their families; the ultimate goal of the program is to help them to move from a logic of survival to a more sustainable growth scheme. This way, they will get out of the precarious situation in which they have being for years.
The capacity building program provide them with a wide range of activities:
– management training, basic notions in marketing and accounting, customer psychology, strategy of customer retention, how to build a business plan, the use of cashbook, how to optimize the cost, acquire basic notions in English, etc.
– a series of personalized individual follow up during 12 months after the training to accompany on a long run each beneficiary in their process of change
The program is reinforced by a 'Micro/small Entrepreneurs Business Club', which impulses new business practices, networking through thematic workshops, peer-to-peer experience sharing, contributing to create a favourable ecosystem where micro entrepreneurs are no longer isolated self-employed vendors.
How can you help?
If you are a traveler and go to discover Vietnam, then you will probably be charmed by the street vendors community, by their ingenuity, their smiles, and their hardworking, but also by the diversity of the dishes and products they are offering, the flavours and the colours they display. Support them by buying a kilo of mangoes or rambutan depending on the season of your trip, or discover the unique tastes of a "banh mi" or a bowl of "pho".
If you have a few days available in HCMC, then you can join our pool of "skilled volunteers" and participate to animate our English club, which aims to give some notions of English to those entrepreneurs, so that they can interact more easily with potential foreigner customers.
Address: 98 Ngo Tat To, ward 19, Binh Thanh District
EXO Foundation Support
The EXO Foundation is keen to support small entrepreneurs allowing them to develop further.