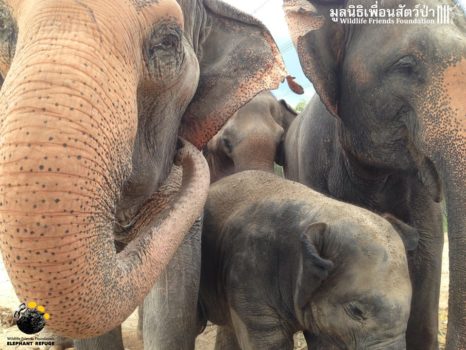 The Wildlife Friends Foundation Thailand (WFFT) was founded in 2001 to protect, rescue, rehabilitate and care for wildlife that has been exploited by people or otherwise come into conflict with humans, to care for confiscated wildlife, and to raise awareness of the threats faced by the wildlife of Thailand and South- East Asia in general. Located in Phetchaburi Province, as of May 2017 WFFT now cares for over 500 wild animals. They include over 250 primates, Asian elephants, bears, felines, reptiles and nocturnal mammals, many of which are threatened and endangered species.
 What do they do?
Rescue wild animals from captivity where they are maltreated or neglected, and to provide the ones that cannot return home a place where they can spend the rest of their lives in a sanctuary, providing them with a home as close to their natural environment as possible, with the best possible care. In particular, WFFT aims to provides sanctuary for those animals whom no-one else is prepared to care for e.g. the sick or disabled.
Educate people, particularly children to stop the exploitation and cruelty to animals, and to understand the intrinsic value of nature. In particular, WFFT campaigns against the illegal trade in wild animals for the pet industry and to discourage the use of animals in entertainment, for example, as photo-props or in performing animals shows.
Prevent hunting of wildlife, and promote conservation of all natural resources, fauna and flora alike. Educate local people, tourists and the international community to appreciate, understand and protect wild animals and their rainforest habitat. Cooperate with and assist the Department of National Parks and other organisations concerned with the rescue and conservation of wild animals.
Gather knowledge and take part of rehabilitation and release programs for those animals that qualify for re-introduction into the wild. They also set up and join activities with other charitable organisations and authorities for the public benefit.
How can you help?
DONATE – Individual or group donations can be made online via PayPal or by bank transfer www.wfft.org/donate
VOLUNTEER – Why not join one of our many volunteers programs minimum stay is at least one week. See www.wildlifevolunteer.org
VISIT or STAY a few days – Why not come and spend the day at WFFT?
FUNDRAISE – From sponsored walks to donation boxes, there are many ways to fundraise
CAMPAIGN & EDUCATE – Spread awareness of WFFT's current campaigns and educate others to the issues surrounding the abuse of wildlife. Use the resources in the education section at www.wfft.org.
MATERIALS – Supply with materials at discount prices or free of charge. We are always in need of
medical supplies and equipment, building materials. Some items can be seen at www.wfft.org/donate/wish-list/
CORPORATE – Do you know of or work for a company that would be able to provide us with corporate sponsor?
ADOPT – Adopt one of WFFT's residents for yourself or as a gift, by doing this you will be helping secure their future see www.wfft.org/adoptions/
PROMOTE – Promote WFFT through local media by contacting your local outlet, social media by joining our Facebook page or following us on Twitter, and speak to your friends and family, education is the key!!!
EXO Foundation Support
EXO Foundation support will go towards the creation of the biggest elephant enclosure in the region at the WFFT Elephant Refuge, it will go directly to the purchase of land. The enclosure will be a 20 hectare protected habitat for rescued elephants. It will provide a large herd of around 20 elephants with grassland, forest and wetland areas for them to spend their days. They aim to raise $220,000 create an amazing place for elephants, the funds from EXO will bring them closer to their target
EXO Foundation encourages EXO Travel to spread WFFT activities and lodge to their clients and travelers who can happily contribute by visiting or staying overnight thus supporting while enjoying a unique experience.