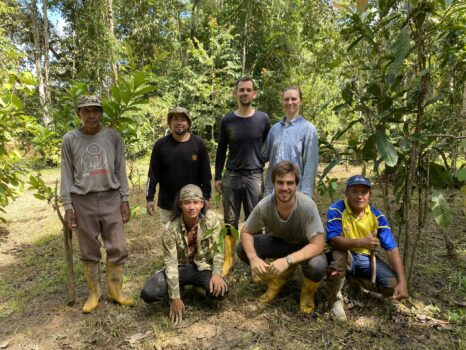 Introducing APE Malaysia, a dedicated social enterprise with a profound commitment to improving animal welfare and conservation. APE Malaysia focuses on developing volunteer projects and educational programs to support animals both in captivity and in the wild.
Their initiatives are meticulously designed to be sustainable, benefiting the environment, wildlife, and local communities. Currently, APE Malaysia operates projects at two remarkable locations: the Bornean Sun Bear Conservation Centre and the Corridor of Life in Sabah. What sets their projects apart is their unwavering commitment to long-term involvement.
Each month, APE Malaysia brings together participants from diverse backgrounds, uniting them under a common conservation goal. This continuous engagement ensures that their efforts yield tangible and lasting results in the field. The success and sustainability of these endeavors are driven by the dedication of APE Malaysia participants, who consistently meet monthly targets and actively contribute to the cause of conservation.
Join APE Malaysia in their mission to protect and conserve our planet's precious biodiversity. Together, they are working to create a brighter future for animals, the environment, and the communities that depend on them. Explore their projects and become a part of this positive change.
What do they do?
APE Malaysia is deeply involved in the Corridor of Life Project along the Lower Kinabatangan River in Sabah, Borneo. As a committed social enterprise, they work to create holistic environmental solutions that benefit animals, their habitats, and local communities.
Within this prestigious project, in partnership with other organizations and Sabah government agencies, APE Malaysia contributes to the protection of endangered species and biodiversity in the region. Their primary focus lies in habitat restoration and wildlife welfare, particularly through reforestation efforts.
Over 15 years, APE Malaysia has planted more than 84,000 trees, with an impressive 75-85% survival rate. This endeavor has led to the formation of a thriving junior canopy, offering refuge to various species including orangutans, pygmy elephants, deers, and hornbills.
Their accomplishments include significant sightings, such as a mother and baby orangutan nesting in trees planted by volunteers in 2016, showcasing the tangible impact of their work.
APE Malaysia's dedication is vital as they operate in the Lower Kinabatangan Wildlife Sanctuary, an area of immense importance for wildlife conservation. This sanctuary, managed by the Sabah Wildlife Department, hosts endangered species like Borneo pygmy elephants, orangutans, and many others.
Despite challenges such as illegal activities within the sanctuary, APE Malaysia collaborates with other organizations and supports enforcement efforts to protect this vital ecosystem. They also engage with local communities, recognizing their role as guardians of the forest.
The Corridor of Life Project envisions a harmonious coexistence of people, wildlife, nature-based tourism, and local forest industries. Supported by WWF and stakeholders, this visionary initiative promotes sustainable development and environmental management.
APE Malaysia extends an invitation to companies and organizations to participate in their Forest Restoration Sponsorship Programme. By joining, these entities contribute not only to wildlife and habitat preservation but also to the livelihoods of local communities.
Through their unwavering commitment to holistic conservation, APE Malaysia plays a crucial role in preserving Borneo's natural wonders for future generations to cherish.
EXO Foundation support
The EXO Foundation generously donated $1,200 to support APE Malaysia's vital reforestation initiative. This contribution will enable the planting of approximately 159 trees in Sabah's Lower Kinabatangan Wildlife Sanctuary, Borneo.
The RM35 per sapling covers various planting expenses, including sapling acquisition, nursery care, mulch production, soil enrichment, and plot preparation. It also includes necessary maintenance conducted four times a year for four years per sapling. APE Malaysia anticipates project completion by October, with a four-week preparation phase, sapling procurement, planting, data gathering (including photos and GPS coordinates), image enhancement, certificate creation, and delivery to the EXO Foundation.
Upon project completion, APE Malaysia will provide the EXO Foundation with:
An e-certificate, personalized with the recipient's name and GPS coordinates of the planting site.
A set of overview photos showcasing the planted trees.
A comprehensive list of tree species involved in the reforestation project.
Visiting the reforestation sites is not accessible to the public due to their location within the Lower Kinabatangan Wildlife Sanctuary. However, authorized organizations involved in conservation and research, like the EXO Foundation, can access these sites. For those interested in witnessing the planted trees firsthand, coordination with APE Malaysia's on-site team is necessary. While a minimal logistical fee may apply for transportation and staff, advance notice can make such visits possible.
This collaboration reflects the EXO Foundation's unwavering commitment to supporting environmental conservation and reforestation initiatives that leave a lasting positive impact on our planet. Additionally, EXO Travel also contributes to APE Malaysia through its tours, including the "WILDLIFE CONSERVATION PROJECT FOR FAMILIES" tour,  Reforestation activities can also be arranged from select river lodges.