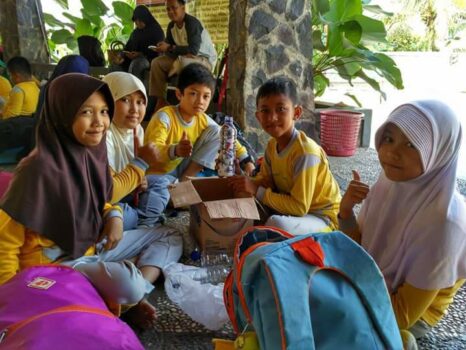 Established in 2010 on Flores Island
In East Indonesia, the Indonesian Waste Platform has evolved into a nationwide and international network. Its mission is to unite stakeholders from diverse sectors to address Indonesia's intricate waste challenges, both on land and in water bodies.
The goal: to reduce marine plastic waste in Indonesia by 70% by 2040. Achieving this demands collective responsibility, stakeholder engagement, ongoing communication, and agenda alignment.
Focus areas:
Effective Waste Management: Specializing in designing waste management models, especially in remote Indonesian regions.
Capacity Building: Empowering stakeholders and promoting waste and climate literacy in communities.
Cross-Sector Collaboration: Facilitating collaborations under the Collective Impact approach, fostering synergy among stakeholders.
A notable project within Komodo National Park leverages gender-related issues to drive behavior change within the local fishing community, advancing the aim of a cleaner, more sustainable Indonesia.
What do they do?
The Indonesian Waste Platform, operating since 2015 and legally registered as a Foundation in 2020, is dedicated to waste management across five islands in the West Manggarai District. Three of these islands are nestled within the prestigious Komodo National Park, a UNESCO World Heritage Site.
The "Komodo Model," initiated in 2020, was expanded to cover four additional islands at the request of the district government. This project received recognition as a Pioneer of remote island waste management by the district government and earned the founder the title of the Best Environment Activist from the Minister of Environment and Forestry in 2023, cementing their role as a Komodo Hero.
The project's primary goal is to support the Indonesian National Action Plan by reducing waste leakage into the environment by 70% and increasing the recycling rate to 30% by 2025. The beneficiaries are the fishermen communities on these islands. Remarkably, the initiative has collected over 60% of the total waste produced, achieving an 80% recycling rate by implementing circular economy principles.
With an investment exceeding 60,000 Euros over three years, the project seeks additional support to provide waste bags to over 2,000 households. This strategy aims to introduce source separation of waste, preventing environmental leakage. Furthermore, the project conducts 52 beach cleanups annually, offers educational resources for schools, and conducts awareness campaigns through flyers distributed on fishermen's boats and among tourism stakeholders.
The motivation behind this endeavor is twofold: to contribute to reducing marine waste in Indonesia and to protect the World Heritage status of the Komodo National Park. Recognizing that 70% of our planet is comprised of oceans, the project underscores the importance of maintaining their health for the benefit of all.
EXO Foundation support
The Indonesian Waste Platform had the honor of participating in the EXO Sustainability Awards in 2013, which highlight and recognize organizations dedicated to sustainable practices. We will continue our conversation to explore new ways of supporting and collaborating.