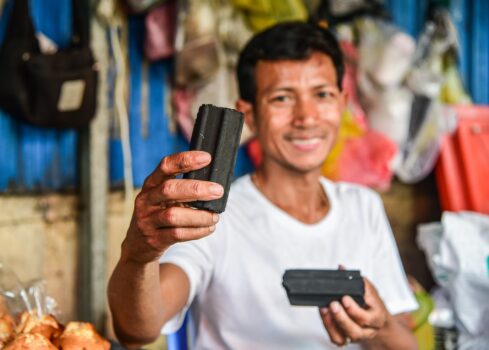 Khmer Green Charcoal was created in 2018 as a project of two NGOs and is now a social enterprise supplying its Green Charcoal to more than 6,500 end-users in Cambodia. They aim to alleviate poverty, reduce deforestation, as well as improving waste management of urban and rural areas.
What do they do?
The company has developed a clean cooking fuel providing a sustainable alternative to reckless wood-charcoal consumption.
In collaboration with a social NGO for child protection, the Khmer Green Charcoal selects its workers among the most vulnerable families of Phnom Penh, ensures them a fair salary, and allows worker's children to go to school.
So far, the production and the utilization of green charcoal save Cambodian forests from illegal logging, reduce CO2 emissions and combat Climate Change. Khmer Green Charcoal has saved a forest area in Cambodia equivalent to 400 football fields.
EXO Foundation Support
In 2019, Khmer Green Charcoal has received our support to train local people to produce the char briquettes, enabling an additional alternative income to local farmers in rural households.