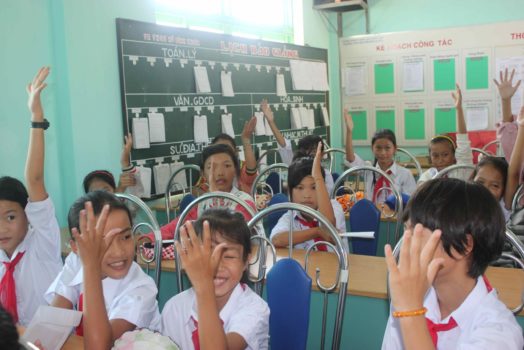 Established in 1998, Children Of Vietnam is a non-profit organisation that is passionate about helping vulnerable children in Viet Nam.  The Danang-based organisation is grounded in the philosophies of its founders, Mr. Ben Wilson and Ms. Luong Thi Huong; working in partnership with children, families and communities to secure maximum resources, determine where need is greatest and deliver aid effectively and efficiently to create positive and sustained benefits for the children and the communities they live in.
What do they do?
COV builds bright futures for vulnerable children by educating, healing, sheltering and nurturing—basic necessities for all children to grow to their fullest potential.  It educates children for long-term success; creates safe places for them to go to school and come home to; provides healthcare for the children who need it most, and feeds them so they grow into healthy, productive adults.
The organisation's amazing success stories include that of Duyen, who has a disability and is now attending university; single mother, Nguyet, now a successful market vender; and the Nguyen family who have moved from a leaking shelter to a stable house.  Not to mention the thousands of rural kindergarten children who are gaining healthy weight. COV reaches over 30,000 children annually to give them hope and lasting help.
How can you help?
Education is the best way out of poverty, but in many rural areas long distances to school and the lack of resources and infrastructure often result in high rates of dropping outs from studies. By donating one bicycle you can make the difference helping a whole family keeping their children in school.
US$ 25        Feed a family with a bag of oil, fish, rice and other basic necessities
US$ 55        Educate a child with books, uniforms, supplies, school fees
US$ 100     House a family with materials like bricks, wood, and metal for walls, doors and roofing
US$ 250     Treat a child in need of medical attention e. g. heart surgery, medicine, wheel chairs and hearing aids
US$ 500    Provide wraparound services for a child with disabilities
US$750     Empower a single mother with the comprehensive assistance