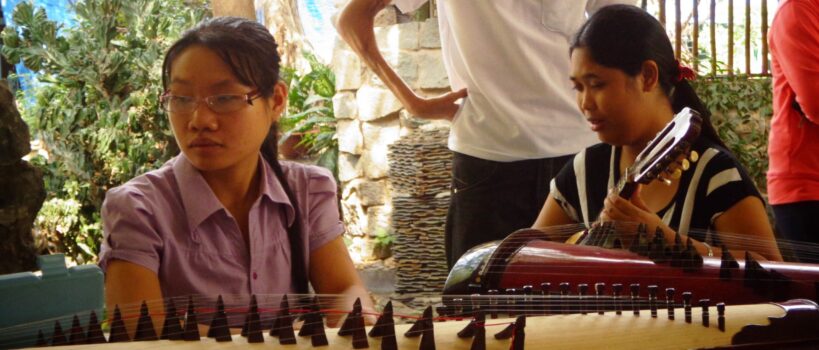 OSEDC is a Vietnamese-run charity that works with poor, disabled young people, who would otherwise have little chance of socio-economic integration, to help them earn a living. Founded in 1999, OSEDC first established a centre in Ho Chi Minh City to provide shelter and training opportunities for children. Today, its boarders are mainly impoverished teenagers with disabilities. This was followed up in 2008 by the Centre for Disadvantaged People and Charity in Hanoi, which also focuses on social, charitable and humanitarian activities that benefit disadvantaged people, with children as its priority.
What do they do?
The OSEDC centre in Ho Chi Minh City has two functions. It is currently home to 18 boys and girls aged between 16 and 26, mostly from rural areas, with little or no education and some kind of disability – usually blindness – that prevents them from living independently and integrating socio-economically.  Students stay at the centre, where they receive education in Vietnamese language and culture and training in areas like IT, music and self-defence until they can make a living by themselves.
The centre also acts as a day shelter for children and youths whose parents have sold their homes in the countryside to migrate to the city, and subsequently live in extremely impoverished circumstances. During their free time after school they are taught to improve their reading and writing skills as well as personal defence techniques, before returning home to their parents.
Lessons at the centre are taught by volunteers; they combine technical and vocational training to improve students' career opportunities with the development of personal skills like courage, strength and pride that will help them become more integrated within Vietnamese society and the economic life of the city.
OSEDC also works to promote cultural and sporting activity as a way of improving quality of life, taking its students out to disadvantaged rural areas to entertain and educate local people. The performances they present include music shows, featuring traditional instruments like stone and bamboo xylophones, and performances of vovinam viet vo dao, a form of Vietnamese karate.
How can you help?
OSEDC dearly needs your help so it can continue to provide nutritional food and decent housing conditions for it's boarders. Any donation, however small, is gratefully accepted and will directly benefit the children involved. Contact us for any donation as a small organisation they don't have a dedicated website or online donation platform.

Your donation directly benefits their needs
US$ 10      Cost of food for one student for a week
US$ 20      Cost of food for 2 students for a week, etc.
US$ 100    Funds the purchase of a musician instrument
EXO Foundation support
This centre is strongly recommended to be included in tours for tourists who are willing to support a good cause.
Ask your travel agent to book a tour to the organisation's centre in Ho Chi Minh City, where visitors can can enjoy the excellent live song and dance performances, with music played on traditional Vietnamese instruments, and karate demonstrations where boys and girls show what they have learned about self confidence and respect for others.