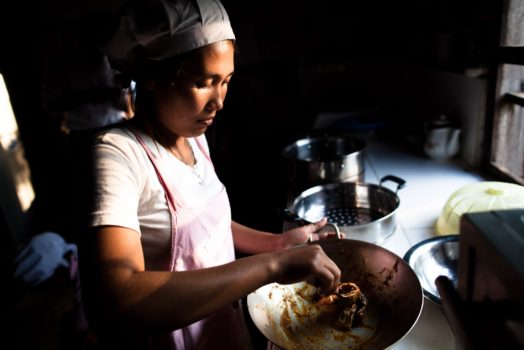 Set under the umbrella of the Tourism for Help association (a non-for profit Swiss organization), the "Tonle Tourism Training Center" (TTTC) was established in early 2007 in the town of Stung Treng, near the Mekong River. It works as a guest house and a restaurant to give underprivileged locals skills that will enable them to then access a decent job position and earn a living.

What do they do?
TTC provides underprivileged youths with one year of free education. It includes both theoretical and practical training on accommodation, reception, restaurant service, maintenance and tour guidance, as well as basic English speaking skills, computer skills. After their training, Tourism For Help assists students on their next steps, either in further training as entrepreneurs or with looking for their first job. From 2007-2009 it provided support to 16 vulnerable youths from Stung Treng. Eighty percent of graduates have found employment in companies, NGOs, restaurants and hotels in Stung Treng.
How can you help?
When travelling to Stung Treng ask your guide or your travel agent to have lunch in Tonle restaurant; it is one of the best restaurants in town. It will give you a good chance to interact with students in the kitchen. If you have some spare time you can also teach them one of your favourite recipes while helping improve their English language skills.
US$ 5         English text book for 10 students
US$ 12      1 uniform or study material for 1 student for one year
US$ 15      1 month allowance for 1 student
US$ 64     1 week of meal for 15 students