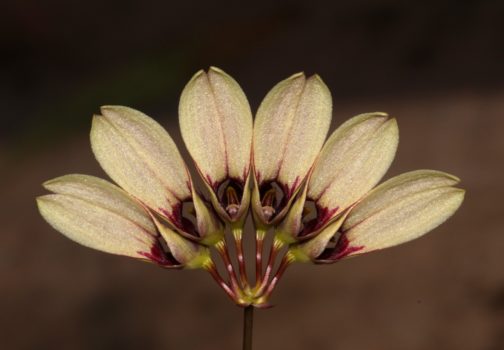 Pha Tad Ke after years of work is now fully opened to the public since May 2017. It is the first botanical garden in Laos. It is a 15min boat ride from Luang Prabang along the Mekong River. The garden is a 14 ha garden next to a hill called Phad Tad Ke (unfolding and resolving cliff). The initiator, a former art seller specialized in primitive arts, fell in love with Luang Prabang and he's obviously a nature lover. He kept his first love for art and he's a partner of the Space Project a new gallery in Luang Prabang promoting Laotian artists.
What do they do?
The project's goal is to set up a regional research center that will run joint projects with botanical institutes in Southeast Asia, Europe and the United States in order to compile the first complete living collection of Lao plants. This collection will be used for in-situ and ex-situ research, education and leisure purposes. In this way, Pha Tad Ke help promote biological diversity in accordance with the Convention on Biological Diversity. Following its action and contacts with local authorities the adjacent hill was classified as a protected area covering 28 ha.
The garden officially opened to the public in 2015 is already organizing different actions, such as educational days for children, trainins and workshops on ecology and biodiversity for students and teachers, as well as inventory fieldtrip with botanists and horticulturists from international botanic gardens. A few thematic books have already been published and are distributed to kids and students. When open to the public it will progressively include a traditional spa, an arboretum, a palm tree garden, a bamboo garden, thematic medicinal plants gardens, workshops on Lao floral arrangements, permaculture, medicinal plants and usage.
Pha Tad Ke makes a substantial contribution to the sustainable economic development of the region, to the education of children and adults, to the creation of real expertise that will enable local people to develop specialist skills in botanic and permaculture.
How can you help?
Thanks to a privileged partnership with the garden, travel agents working with EXO have a unique opportunity to accompany Pha Tad Ke team to visit a village where they bring in environmental education through activities such as the medicinal garden kit, and about the ecology and medicinal properties of some species.
US$ 25       Give a book pack
Pha Tad Ke has published several books for children. The pack includes eight books published by Pha Tad Ke, which will be donated to village libraries or given away.
US$ 50       School garden kit
A kit for teachers to start their own school garden based on permaculture techniques with their class. It contains a teacher's manual in Lao and the different seeds needed to plant a 5×5 meter plot with healthy vegetables and plants with simple medicinal use.
Help build the Arboretum where over 600 different species will be grown so the public can learn about the richness of Lao forests. Obviously growing a tree requires a long term care over many years, planting it is only the beginning of a long story.
US$ 250     Sponsor a fieldtrip
Sponsor a fieldtrip and contribute to greater knowledge of the Lao biodiversity.
US$ 400    Sponsor a book party
Guided visits to the garden for a group of school children; they will spend a day learning about the plants of Laos and the importance of biodiversity conservation. The package includes the costs covering the accompanying educators, transport, lunch and one children book for each.
US$ 1 000   Sponsor a student
Sponsor a scholarship for a student in agriculture; this amount covers living expenses and school fees for a whole year.  During holidays they participate in the work and trainings at Pha Tad Ke.
EXO Foundation support
EXO Foundation has supported the garden at its inception stage, we have also provided them with copies of our comic strip on Waste Management 'Don't waste your waste' which they use in their sensitization programs.