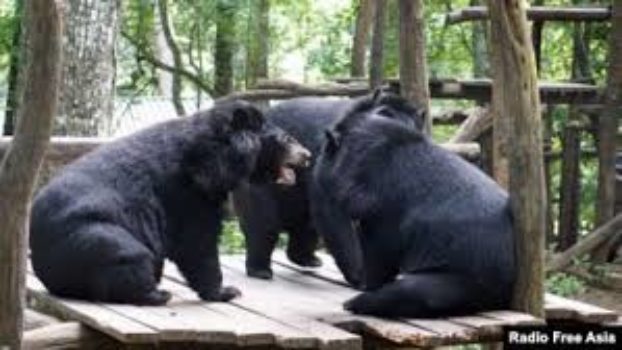 Free the Bears Fund (FTB) is an Australian non-for profit organisation created in 1995 with the purpose of protecting, preserving and enriching the lives of bears throughout the world. FTB works in six priority countries throughout Asia: Laos, Cambodia, India, Indonesia, Thailand and Vietnam.
What do they do?
In Laos PDR, FTB works with the Luang Prabang Provincial Agriculture and Forestry Office and the Provincial Tourism Office to create a safe home for rescued bears that were illegally captured from the wild as young cubs. Since its establishment in 2003, FTB's Sanctuary in Laos has rescued 29 bears.
Most were originally captured for use in the traditional medicine trade, with their bile worth a hefty price. FTB is active lobbying against bear bile farms that are still legal in Laos as registered companies who raise bears instead of poaching them from the wild. FTB help the government track a bear's background to ensure they were not captured while  also advising on the formulation of legislation. Located in Tat Kuang Si Park, FTB developed an environmental education center for travelers located on the way to Kuang Si waterfalls and trains tour guides to give the correct information. The Bear Sanctuary itself welcomes around 200,000 visitors a year, giving them the opportunity to see one of Laos' most endangered species while learning about the threats to bears and how they can help to protect Laos' wildlife.
FTB is also supporting nationwide mapping of wild bear population throughout Laos, in cooperation with the Wildlife Conservation Society and the Department of Forest Resource Conservation in order to determine priority areas for conservation and management of threatened bears.
How can you help?
Ask your travel agent or your guide to visit the Bear Sanctuary if you are going to Tat Kuang Si Park. FTB welcomes volunteers during certain dates and times of the year, to know more please contact us. Any amount counts for FTB to pursue the goal of preserving, protecting and saving the bears in Laos and all over the world.
US$ 210     sponsor a bear in Laos for 6 months
US$ 420     sponsor a bear in Laos for 12 months
You can choose to become a member of Free the Bears, for one year ($63) or lifetime ($340) if you wish this option, contact them directly.