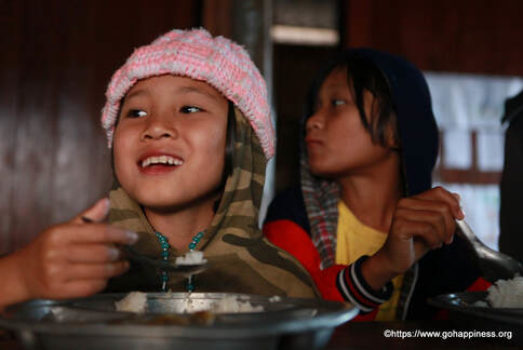 The inspiration behind the Gift of Happiness Foundation (GoHF) dates back to 2000, when British expat and professional entertainer, Edward Haworth introduced his alter ego, Eckie the Clown, to bring the gift of laughter to orphans and other disadvantaged children in Bangkok. Today, a team of dedicated volunteers is in place to support his efforts and GoHF has expanded to bring not only laughter but also essential goods to people in need throughout Thailand.
What do they do?
Gift of Happiness performs a show for one week every month to thousands of children at refugee camps, migrant schools, and health centers all over Thailand. Additionally, short shows are provided in Bangkok at orphanages, slums, schools, and homes for physically or mentally challenged children. The gift of laughter has the ability to help children who live in difficult circumstances to cope with the hardships they face and to provide them with lasting, positive memories.  
The tours are always followed by load trucks of essential goods like clothes, food, medical supplies, etc. in order to be given to the family or the organization. Because the aim of the NGO is to give happiness and thinking that the access to it should be the right of everyone, they also provide toys to the children.
How can you help?
 The work of the NGO is impressive but the number of people in need is even more so. By donating to Gift of Happiness, you help children to have a more stable and "normal" childhood. A donation to GoH will help the Foundation perform their lively educational shows to more  disadvantaged children and provide them with food, new school uniforms, hygiene products, medical supplies, etc.
 – Include in your tour to Thailand the visit of The Bangkok Charity Shop where you can "Bring & Buy" items. Goods are sold on the shop and the money raised will help the NGO for their actions.
 

US$ 8              buys a small medical kit to protect children from infections following minor accidents.
US$ 12.00        buys

a

 

school uniform for one

 

student aged

under 10 years.
US$ 14.00        buys

a

 

school uniform for one

 

student aged between

10

and

16

.
US$ 20.00        buys soap, shampoo, toothbrushes and

tooth

paste for 60

 

students.

US$ 25.00         buys much needed high protein food

to feed one

 

safe house

for abused 

women and children or one

AIDS Center.
US$ 30.00         buys underwear for one child under 10 years old.
US$ 37.00         buys one 50kg bag of rice,

 

purchased locally to

support

 

rural farmers and traders.
US$ 38.00         buys underwear and

sanitary products for women and teenage girls

for two

months.
US$ 50.00         buys pencils and copy books for 60

 

students.
 

US$ 100.00     

funds

one truck

,

driver

and fuel

to deliver 1.5 tons of essential

goods 

to disadvantaged 

communities

.
 

US$ 1,000.00   pays for an entire five day aid &

performance

project

that provides

around 1,000 needy children 

with several tons of essential

goods and a

valuable

learning opportunity.
EXO Foundation support
EXO Foundation has been supporting Gift of Happiness since 2014, with financial and clothes donation collected from EXO Thailand Staff
Please note: EXO Travel has as a policy not to bring any adult tourist in compounds where children are under 12 years old. Aside from the fact that such visits and interactions are strictly forbidden in Western countries to protect children, EXO is not willing to contribute to any tourism based on voyeurism or showcase of misery.