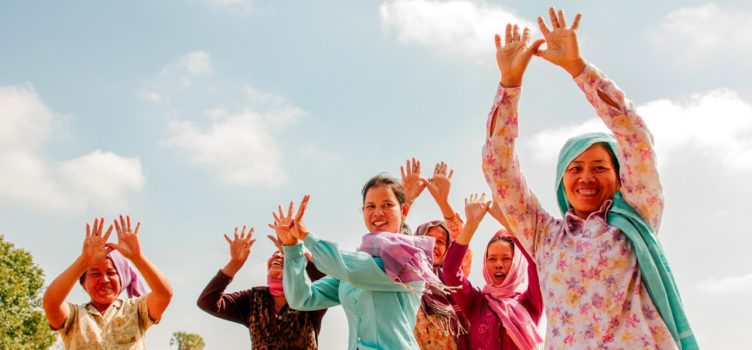 "Time is the currency of life and we need to use it meaningfully with a sense of urgency": the words of Jack Simms have a particular resonance for Paul and Keeva, the founders of SONAS. Meeting microcredit pioneer, Professor Mohammad Yunus, and learning about his work and its impact on millions of lives, fuelled their desire to follow in his footsteps. The pair is convinced that small acts can help to change one life at a time and trigger a "ripple effect" within communities. They believe that change can be made by empowering people and by removing barriers to create conditions where change can take place.
What does Sonas do?
Sonas has a mission to empower prospective entrepreneurs, especially women, in rural Cambodia, helping them to take their first steps out of poverty, and to build happier, sustainable communities.  It aims to remove barriers, instils belief and connects the entrepreneurs to the end user.
The Sonas method is to become immersed in the lives of communities to identify aspiring entrepreneurs and support them with training, funding and other resources that allow them to connect with the market for the goods they produce.  Its first project, a weaving workshop in Takeo province, was developed in partnership with a Cambodian homestay, which now employs eight women who weave high quality cotton scarves. The scarves are sold around the world generating income that allows the women to take their first steps out of poverty and towards a better future. The project is located near the homestay, where visitors can experience the culture of rural Cambodia and see the impact the project makes on the local community.
Sonas is an advocate of responsible tourism; visitors will be encouraged to view this project and exchange knowledge with local people in a way it believes will have a positive impact on the communities involved.
How can you help?
Do you have the skills or resources to help change someone's world? You can join the Sonas social movement by supporting it in a number of ways:
 • You can invest in Sonas by funding training and mentoring activities. Alternatively, you can show support by buying products created by the entrepreneurs.
 • Sonas is always on the look out for like-minded global citizens who want to support and immerse themselves in communities. You can visit the projects to view their work or get involved in the Sonas Leadership Through Immersion Programme.
 • Sonas believes in the ripple effect: you can play a part by sharing your knowledge and expertise with the entrepreneurs – a fulfilling experience that makes a lasting impact…
 • Or, just pay a visit to the Cambodian Homestay, located on the road between Phnom Penh and Kampot, where you can enjoy a taste of rural life and treat yourself (and friends and family members!) to some of the beautiful scarves that are hand-woven on the premises.
 $25 buys an incubator for the chicken hatchery.
 $50 builds a compost shed.
 $125 buys a foot operated irrigation pump.
 $250 funds a water well.
 $650 will kick start a chicken hatchery social business project that will generate enough income to support a family and will be financially sustainable.
 EXO Foundation support
EXO Foundation provided advice on management and project development to Sonas, and made a zero interest loan to support the start-up of five chicken farms developed in line with a biodynamic model taught by a Cambodian farmer.