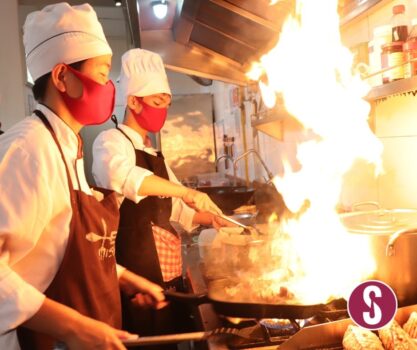 Spoons Cafe & Restaurant, formerly known as EGBOK, embarked on its journey in 2016. The cafe not only expanded EGBOK's culinary program but also provided hands-on service training and increased student admissions. Profits from the cafe were reinvested in supporting EGBOK's mission, ensuring its financial stability.
In 2020, the COVID-19 pandemic led to EGBOK's transformation into a local non-profit organization, "Spoons Cambodia Organization." This change, while challenging, represented an opportunity to empower the local team to lead independently. The legacy continued through "Spoons Cafe & Restaurant," upholding its commitment to education and sustainability.
Spoons has always stood for resilience, empathy, and unwavering passion for its mission. The team's dedication to nurturing hope and sustainability in society remains unwavering. They seek recognition through this award to continue their vital work, demonstrating that challenges can be turned into opportunities for a brighter future.
What do they do?
It serves three main purposes: supporting SPOONS Cambodia students, benefiting the local community, and collaborating with NGO partners.
Half of the restaurant's profits directly fund training programs for disadvantaged youth, while the remaining 50% is reserved as capital for SPOONS. This innovative approach allows students to gain hands-on experience in culinary and service training, setting them on a path to self-sufficiency.
Spoons offers an authentic dining experience inspired by traditional Cambodian cuisine, providing culinary and hospitality students with a professional yet casual environment to practice their skills.
Since 2009, SPOONS has empowered over 530 underprivileged Cambodian young adults by providing comprehensive hospitality training, including English language and life skills. Their graduates achieve a 100% job placement rate within a month of completing their programs.
The challenges faced by SPOONS, including the transition to local management and funding constraints, have only strengthened their resolve to make a difference. As they strive for financial independence and top-tier status in the restaurant industry, they remain steadfast in their commitment to providing quality education and empowerment to the less privileged.
SPOONS' participation in this program aims to further their journey, focusing on eco-friendly practices and receiving mentorship from international experts in social enterprise business. They aspire to expand their model, ensuring sustainable culinary training for local students without relying on grant funding within five years. Ultimately, their mission aligns with the United Nations Sustainable Development Goal 11, promoting Sustainable Cities and Communities, by offering employment opportunities and reducing poverty in Cambodia.
EXO Foundation support
The EXO Foundation has been a valuable supporter of Spoons Cafe & Restaurant:
EXO Sustainability Awards 2013: Spoons Cafe & Restaurant had the honor of participating in the EXO Sustainability Awards in 2013, which highlights and recognizes organizations dedicated to sustainable practices.
EXO Travel Promotion: EXO Travel actively promotes the catering services offered by Spoons Cafe & Restaurant to tourists during their tours. This collaboration not only enhances the visibility of Spoons but also encourages sustainable dining options for travelers in Siem Reap.
Gift Meal Vouchers: The partnership extends to community engagement, as Spoons received gift meal vouchers to be used in a lucky draw during an event aimed at raising awareness of sustainability among Siem Reap Tuk Tuk Drivers. This initiative not only supports the restaurant but also contributes to sustainable practices in the local transportation sector.
The support from the EXO Foundation underscores their commitment to promoting sustainability and empowering organizations like Spoons Cafe & Restaurant that are making a positive impact in their community. Through these collaborations, Spoons can continue its mission of providing valuable education and training to underprivileged youth while also offering authentic Cambodian cuisine to both locals and tourists.