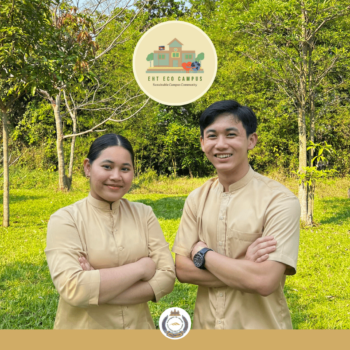 École d'Hôtellerie et de Tourisme Paul Dubrule, situated in Siem Reap, Cambodia, is more than just a Technical and Vocational Education and Training (TVET) center—it's a catalyst for positive change. Committed to both student well-being and environmental sustainability, this institution takes a holistic approach to education.
Recognizing the tourism industry's substantial contribution to carbon emissions, EHT Paul Dubrule is on a mission to educate its students about climate change and empower them to combat its effects. At the heart of this endeavor is the Eco Campus project, involving all students and led by the Eco-Committee, which comprises over 70% of students, including the chair and vice-chair. Their projects align with the Foundation for Environmental Education's (FEE) standards and span various sustainability themes, from waste management to biodiversity preservation.
EHT Paul Dubrule students are change-makers, actively spreading and implementing sustainable practices in their local communities. They've initiated projects to reduce energy consumption, manage waste efficiently, grow organic produce, promote well-being, and enhance biodiversity on the campus.
A remarkable ambition sets EHT Paul Dubrule apart: to become the first TVET center globally to earn the Green Flag certification, setting a precedent for others. Their vision extends beyond their institution, as they seek to inspire and support TVET centers worldwide in their journey toward sustainability.
Ultimately, EHT Paul Dubrule's commitment to empowering stakeholders and fostering a positive impact beyond its walls exemplifies its dedication to improving the well-being of the entire local community. This institution is a trailblazer, illuminating the path toward a more sustainable future for TVET centers globally.
What do they do?
Formation et Progrès-Cambodge, an NGO, established the École d'Hôtellerie et de Tourisme Paul Dubrule in 2002 with a mission to provide innovative and professional education to young Cambodians, especially disadvantaged youth. Through five distinct training programs—Culinary Arts, Pastry & Bakery, Front Office & Housekeeping, Travel Agencies, and Food & Beverage— the institution equips students with the knowledge and skills needed for management or entrepreneurial careers in the hospitality and tourism industry. Additionally, they offer a diploma in hotel management to foster managerial abilities.
Each year, EHT Paul Dubrule welcomes approximately 250 students, with 30% receiving full scholarships. Over the years, more than 4,000 graduates have joined the alumni network, working not only in hospitality and tourism but also in various industries in Cambodia and beyond. This achievement is possible through collaboration with over 100 industry partners and local and international organizations dedicated to training and employment.
The institution is deeply committed to providing access to quality education and equal opportunities within a professional and healthy environment. EHT Paul Dubrule encourages community spirit and extracurricular activities, allowing students to access digital learning platforms for flexible learning.
Moreover, the EcoCampus project is a cornerstone of the school's commitment to sustainability. It encompasses various initiatives, such as creating a vegetable garden, planting trees on the campus, offering sustainability-focused courses, reducing electricity consumption, selecting sustainable suppliers, waste reduction and separation, and eliminating single-plastic use.
EHT Paul Dubrule's dedication to sustainability and its EcoCampus project sets an inspiring example, making it the first TVET institution worldwide to strive for the EcoCampus Green Flag certification. This initiative is driven by student engagement, a commitment to the environment, and financial investments of approximately $20,000, with in-kind support worth $30,000 from the Foundation of Environmental Education (FEE). The project addresses challenges in adapting guidelines to TVET systems, managing a high turnover of Eco-Committee members, and fostering a change in mindset within the institution.
Ultimately, EHT Paul Dubrule's project aims to transform its students into change agents, preparing them for a future that integrates sustainability, well-being, equality, and respect. It strives to create a model for other TVET institutions worldwide to follow and achieve sustainability goals.
EXO Foundation support
Winner of the EXO Sustainability Awards 2013 for Organizations Working for the Planet:
Category: Climate Action – Recognizing organizations dedicated to reducing greenhouse gas emissions
Winner (Not For Profit): Paul Dubrule School (Cambodia)
Prize awarded: $2,000 for the winner