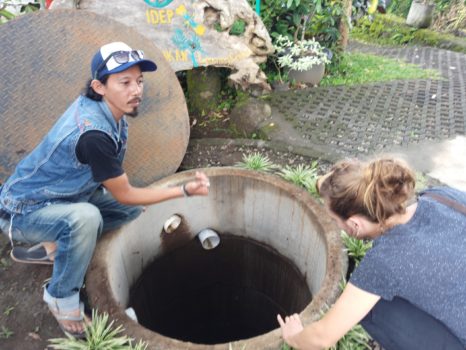 In 2002, Bali suffered the human tragedy that is better known as the Bali Bombings in which events make IDEP as an organization realize the importance of disaster preparedness for the community. Learning from the situations that occur, IDEP develop handbook for community-based disaster management as a starting point of the birth of disaster management programs and disaster risk reduction.
What do they do?
Permaculture and disaster risk reduction, are at the core of IDEP's mission, and innovations that build sustainability, transparency and accountability of the organization. BWP aims to impulse a new water management behavior in Bali's province and achieve the following objectives:
Restore the groundwater reservoirs (also called "aquifers") that are currently drying up, leading to saltwater intrusion into the empty spaces.
Empower river stewardship from kids schooled alongside riverbanks to protect their rivers from drying up and being polluted by trash littering and chemical pollution
Inform the population about the water crisis: most Balinese do not even know about the issue!
The main feature of BWP is the building "recharge wells" to harvest rainwater during the rainy season. Thus, BWP will start a process of refilling the aquifer system that has been strongly damaged by the over-development of the island, especially in the south of Bali where inland salt water intrusion is increasing. The Bali Water Protection program aims to build specific-designed wells to recharge the acquirer system and to block salt water intrusion in coastal areas. It goes along with an educational program that will result in long-term freshwater resilience for Bali and its surrounding sister islands.
IDEP foundation and its partners will combine their efforts to pilot an amazing project with the help of individuals in love with Bali and the local businesses who strongly rely on water to survive.
The first and most important step, that this proposal will cover, will be to fine-tune the research of the exact locations of the recharge wells to ensure their full effectiveness.
The two other components involve an educational program for kids living alongside the rivers as well as a media campaign aiming to increase the general knowledge about Bali Island's water scarcity issue.
How can you help?
While funding is of course necessary, the more people will share the fate of Bali's freshwater, the more travelers will be conscious of their water use when visiting Bali.
On top of recruiting business partners, IDEP is calling for individual support through online fundraising to fund the initial stage of this project with a value of US$ 105,000. We need your help! https://fundrazr.com/campaigns/5zytb
EXO Foundation support
We are happy to be strong supporter of BWP developed by IDEP, as it offers concrete and realistic solutions to Bali water crisis. The water crisis Bali is facing partly because of tourism high water consumption and added pollution.