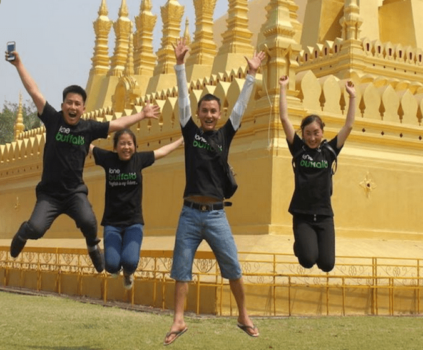 The Xieng Khouang Province is one of the most heavily bombed places in the world, a tragic and deadly legacy of the second Indochina war. Lone Buffalo are committed to improving opportunities for young people in this province through their English, football and creative skills programs. Lone Buffalo is a non-profit organisation formed in 2010, following the sudden death of the inspirational Manophet 'Lone Buffalo', who founded EDS school & football club in Phonsavan, Xieng Khouang Province in North Eastern Laos. Manophet committed his life to helping others and everyone who met him was touched by his dedication, generosity, selflessness and stamina.
What do they do?
Lone Buffalo create a unique environment in which boys and girls from different ethnic backgrounds can study, develop, build confidence and play sport together. The project provides free English study, structured weekend football coaching and photography and film making programs for young people. They also offer computer skills and free Internet access to support their students studies. Lone Buffalo teach five levels of English, from Beginner to Intermediate, using a combination of trained local teachers and qualified western volunteer teachers.
Students come from relatively poor backgrounds but Lone Buffalo believe that they should be given the same chance as others to benefit from the opportunities that are arising as Laos graduates from the UN's 'Least Developed' status. Most students' parents are farmers – but they have similar ambitions to other young people for successful careers in business, arts and technology. Lone Buffalo's goal is to help them achieve these aspirations. Almost 50% of students are girls, who play an important role both inside and outside of the classroom – the project currently has both FIFA approved female student football coaches and female movie directors.
Lone Buffalo host inspirational guest speakers and arrange field trips to local attractions, encouraging young people to contribute to and learn about their community. The organisation have set up a support network in Vientiane Capital City, monitoring former students progress at university and introducing them to prospective employers from the private sector.
Lone Buffalo encourage creativity through film making projects. Students have produced short films, some of which have won awards at international student film events. The students have also set up a Lone Buffalo Vimeo Channel for their movies. The project associated movie On Safer Ground generated international awareness of the tragic Unexploded Ordnance problem in Laos and several student films tackle the issue of UXO.
A further goal of the project is to develop the skills of their Lao teaching team, through workshops hosted by both Western and Lao teachers. As most of the local teachers also work in State schools, this improves general teaching skills within the community.
How can you help?
If you visit Phonsavan, you can buy Lone Buffalo merchandise and the Student Guide to Phonsavan at Bamboozle Restaurant and Cranky T's Café. 
Sponsor a class – It costs $1500 a year to support a class of up to 25 students
Supporting Lone Buffalo will help towards achieving their key objectives
Start new classes for the many young people waiting to join Lone Buffalo. More than 200 new students registered during the 2016-17 term and are waiting for classes.
Provide employment and training for new local teachers.
Provide opportunities for females – almost 50% of students are girls and Lone Buffalo has female football coaches and film directors.
Assist with school fees (where necessary) to help current Lone Buffalo students finishing High School to find university or vocational school placements.
Support Lone Buffalo Teacher Training workshops to improve the quality of teaching within the local community.
Fund FIFA coaching certificates for both male and female students.
Fund film-making projects at Lone Buffalo for the Vientiane Film Festival and other International youth film events.
Launch the Lone Buffalo website
EXO Foundation support
We support Lone Buffalo to sponsor 2 english classes, we wish them all good luck and maybe one day they come to work at EXO!