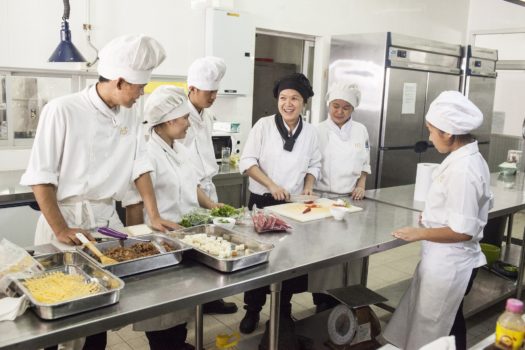 The Hospitality and Catering Training Center (HCTC), located in Mae Sot (Thailand), is a vocational training center providing a two years quality training in hospitality and catering careers such as cook, waiter, bartender, housekeeper and receptionist. That welcomes in average 60 underprivileged young Thai-Karen per 2 years, aged 16 to 22, in order to create opportunities for them to have better lives. It was co-created in 2008 by a Thai NGO, the Tak Border Child Assistance Foundation (TBCAF), and by French NGO, the European Institute of Cooperation and Development (IECD), to fill the gap in educational services accessible to Karen youth, and to promote their social and professional integration in Thai society.
What do

th

ey

do?
The project promotes the socio-economic integration of rural Thai youth in hospitality and catering trades.
HCTC provides a high level of education to its beneficiaries during the training and accompany them in their job placement after the training in order to help them to find jobs in high quality standards hotels all over Thailand. The Tak region, where the school is located, faces a relatively low educational level, offers few employment opportunities and is at the heart of substantial social challenges, due to its situation at the Thai Myanmar border.
The training center includes classrooms, a vocational hotel-restaurant called "The Passport", a dormitory, a canteen, a media laboratory and a pedagogic garden. The theoretical and practical training allows students to acquire technical skills (kitchen, service, reception, housekeeping) but also general skills (languages, life skills…).
Thanks to a solid network of partners comprising more than 70 hotels, students also carry out two internships for a total of seven months, which help student to define their career project and integrate the job market. This network is completed by numerous institutions and associations that participate at various levels of the training.
How can you help
?
Sponsor the studies of one student, by granting 50,000 THB (approximately $1,500) per student for one year. It will contribute to the scholarship expenses of a student and give him the chance to get a better future.
Dine & Sleep at The Passport. You can try some amazingly tasty food cooked and served by the students, and choose between Asian or Western menu (250THB to 290THB : starter, main course, dessert) with an extensive cheese platters, wines and cocktails list (Trip Advisor Certificate of Exellence 2015). Moreover, you can also sleep in The Passport hotel (Only 300THB to 500 THB) which offers 4 spacious rooms, quiet to work and relax, a meeting room (35 seats) and a friendly atmosphere with nature all around. The Passport, 507 Moo 10, Mae Pa, Mae Sot.
EXO Foundation support
EXO Foundation financially supports this vocational training program run by IECD. Moreover, EXO Thailand now includes a stop at The Passport excellent restaurant on its tours to Mae Sot, make sure it is included in your tour if you travel to Mae Sot!