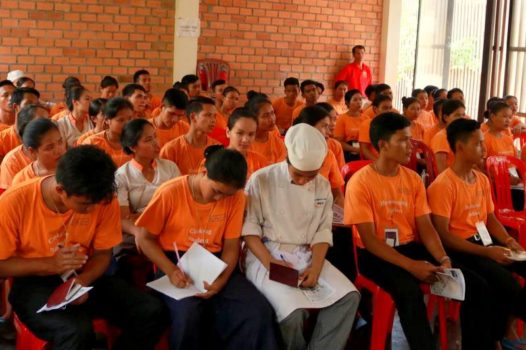 The Green River Project was born when people from EXO Travel Cambodia realized that the rivers of their own country were filled with waste and plastic. Not only this is damaging the magnificent landscapes of the Kingdom Of Cambodia, but it is also harmful to the people living in affected communities across the country. Waste pollution burnt, especially plastic, is seriously endangering the lives of the whole population on daily basis. 
What do they do?
The aim of this project is to partner with Universities/schools/youth volunteer groups around the country to spread awareness on waste pollution and to inform local inhabitants on the negative consequences of disposing unproperly of their waste (such as throwing garbage & plastic in the rivers).
EXO Travel Cambodia has officially signed a partnership with the Prek Leap National College of Agriculture (PNCA) in order to address this matter together with their students. Thus, PNCA has gathered 235 volunteer students and EXO Travel Team has organized training for students on "Waste pollution & plastic waste", in order to share their knowledge on this topic and help them to understand all the stakes behind this major issue. In total, 130 students have been on the ground to spread awareness on waste management to local inhabitants.
In 2018, we extended the project to Siem Reap. In partnership with Sala Bai School and Artisans of Angkor, EXO Travel employees led four workshops to train their staff and students about adopting good waste management practices and were able to reach more than 140 people. In 2019, thanks to a fruitful collaboration with Artisans Of Angkor we trained more than 50 supervisors at a silk producing village where there was also a chance to brainstorm on plastic free/plastic reduction in their production process.
We have invited GAEA, a waste collection company based in Siem Reap, to be part of the project at Sala Bai School and together we trained more than 150 students. The day after, the trainees became the trainers. Sala Bai students shared their knowledge to 120 kids around 10 years old from the Wat Svay Primary School before going all together along the Siem Reap River to collect a total of 250 kg of
trash in one hour! We were extremely happy with the results and all participants received the EXO Foundation comic book "Don't waste your waste" and more than 120 refillable bottles were given to the students.
We have also initiated a collaboration with GIZ and Plastic Free Cambodia to reach 50 Khnar Po villagers, a community living by the river. They have received a training helping them to prevent the pollution of their natural surroundings.
EXO Foundation Support
We have started our collaboration in 2018 in order to help them setting up the first campaigns and we hope this will be a long term one. We like that it is an initiative led by EXO Travel team in Cambodia, in partnership with other Civil Society organizations.
EXO Foundation encourages EXO Travel to spread Green River project activities and to offer travelers to contribute to this project.