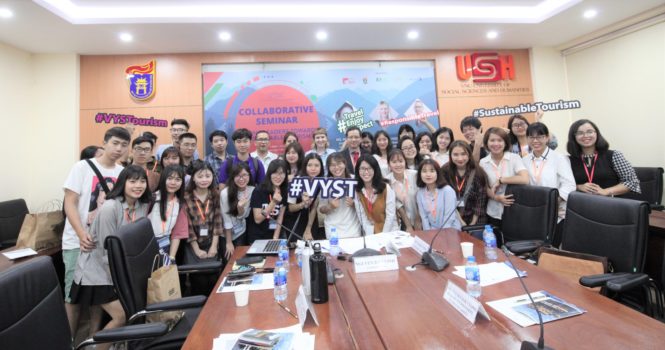 Viet Youth on Sustainable Tourism (VYST) is a one-year project led by a group of Vietnamese undergraduate students from British University Vietnam (BUV) and Vietnam University of Social Sciences and Humanities (VNU-USSH), who are extremely interested in learning about Sustainability issues related to the concept of Tourism, and spreading the message of responsible travelling to everyone.
What do they do?
With the slogan "Dare to dream. Dare to change!", they would like to show their strong and faithful belief in a much better tourism industry that is beneficial and ethical for all; and the determination of making positive changes from smallest actions of every single individual.
The core missions of VYST are to raise people's awareness of the importance of responsible traveling and the global trend of sustainable development, and make real positive impacts on both the environment and host communities by enhancing people's knowledge, behaviors and actions on tourism-related activities.
Workshop  "Young leaders towards Sustainable Tourism", was organized on 13th of April 2018 with support from EXO Travel as guest speaker. It tackled the concept of Sustainable Tourism and Responsible Travel; the contribution of Sustainable Tourism in the global drive for 17 Sustainable Development Goals; what Vietnam is doing with Sustainable Tourism and how every single individual can become a responsible traveler to contribute to the big picture. The rest of the workshop consisted in ice breaking games and group work to encourage people to cooperate to produce ideas together.
Photography contest "Stories worth sharing" was organized with the aim of encouraging people to take pictures and share their interesting and inspiring stories on how they travel responsibly. It was open to everyone all over Vietnam, regardless of age. Everyone regardless of gender, age, profession, social class, ethnic group was encouraged to join the contest. The top best 30 pictures were exhibited in the project closing ceremony.
EXO Foundation support
EXO Foundation has financially supported this project and encouraged EXO Travel to be involved in the organization of the workshop.