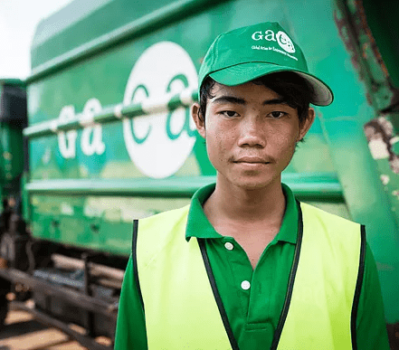 Since 2007, Global Action for Environment Awareness (GAEA) provides waste management services for municipalities throughout Cambodia especially in Siem Reap, Bantey Minchey, Kampong Thom and Kampot. GAEA aims at offering a better living environment by raising environmental awareness to the community and proposing the practice of more sustainable disposal and waste recovery.
What do they do?
In 2018, GAEA is setting up the first glass bottles recycling project ever implemented in Cambodia! In Siem Reap, the generation of waste from glass bottles is estimated  to about 9 tons per day, most of it ending up in the landfill. GAEA plans to collect and sort glass bottles from Siem Reap city to its to site to crush them into sand.
With donors supports GAEA has purchased a glass pulverizer machine that transforms glass bottles into glass culets (9mm) and glass sand (3mm). Thanks to an additional screening system the size of the grain could be reduced to 1mm. The capacity of the machine is 680 kg per hour so 5 tons per day (55% of the total glass bottles waste generation), it can reduce the volume by 80% and automatically separates labels and trash from glass.
The total investment will cost 120,000 $, the operations and maintenance cost should be compensated by selling the output product. They are two key potential markets in Cambodia : sand for construction (concrete, mortar, filling) and sand for water bio-filtration
GAEA Glass Recycling project will mitigate the impact of waste on the environment and create a positive social impact:
Reduce landfilling or wild dumping of 270 tons of glass per month by at least 50%
Re-use glass for sustainable projects in Cambodia (construction, water filtration)
Raise awareness to the community on sorting and waste recovery
Improve sanitation and environment in Siem Reap
Offer employment in decent working conditions
Offer opportunity to the poorest in the waste value chain by standardizing the rag-picking activity
EXO Foundation support
We have decided to support this project because it is a one of a kind in our destinations and it could be replicable. It involves also other tourism stakeholders such as hotels, food and beverages venues and has visibility to the general public to raise awareness on waste management.