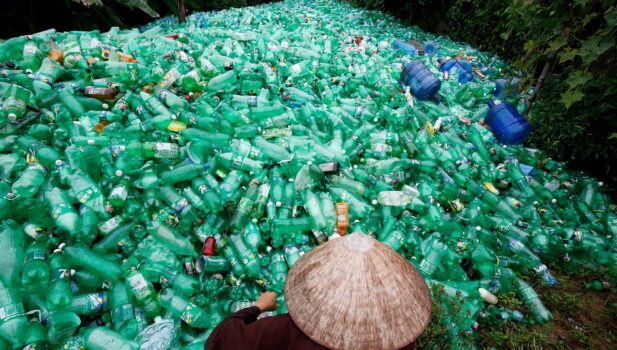 Evergreen Labs develops and supports social businesses addressing the pressing environmental and social challenges of today in Vietnam. Besides supporting entrepreneurs with their own ideas, they also work on their own Evergreen projects that develop into "shelf businesses". These shelf businesses are ready for a passionate entrepreneur to join the project and take over the daily operations.
What do they do?
Evergreen labs has developed ReForm Plastic project, this initative uses plastic waste to produce new tradable products in a decentralized system that can be implemented all throughout the country and region while improving waste workers' income and livelihood.
ReForm uses the existing infrastructure of collection centers and transforms them into small production facilities. Currently, collection centers typically just engage in trading of (mostly) plastic bottles and other high value recyclables. The so called ReForm centers are equipped by ReForm with efficient low cost machinery, collection and processing equipment and training to process the daily yield into products that are centrally purchased and distributed by ReForm.
The value-added processing significantly benefits the income potential of the waste workers and ReForm not only focuses on high value plastics but aims to utilize all types of plastic, especially the low grade plastic that otherwise will not be collected or reutilized.
ReForm centers are also well suitable for rural areas with tourism activities and due to that, higher waste creation.
ReForm is in the process of establishing a 'social franchise system' in which each ReForm center is partially locally owned and managed, but still operates within the ReForm group to ensure quality control, environmental protection and central product development and distribution. To reduce potential entrance barriers, ReForm workers shall not bear the market risk or the financial burden of the model but are granted an offtake guarantee by ReForm.
Each center will provide a platform for up to 30 waste workers. Da Nang alone has the potential for around 100+ centers, and even the smallest village can benefit from a rural ReForm center. Realistically, we plan to open 20 centers in 2019, 100 centers in 2020 and roll out 1000 centers country wide within the next five years, including up to 20.000 waste workers in our approach. ReForm aims to formalize at least 20% of the informal waste sector.
With an average collection yield of 10-15 kg per picker per day, a center can process up to half a ton of plastic per day or up to 200 metric tons per year.
EXO Foundation support
We are supporting Reform in Vietnam, as we believe it is the right approach to give more value to plastic waste seriously endangering this destination.