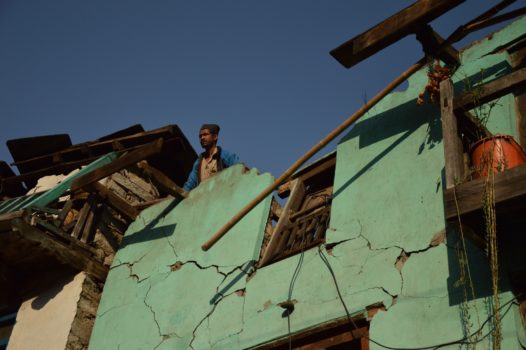 More tragic news followed the devastating earthquake that rocked Nepal leaving thousands dead, as another quake measuring 7.3 in magnitude hit not far from the slopes of Mount Everest.
With over 8000 dead and scores more injured, the impact has been terrible. The regions surrounding the epicenters of these events are home to thousands of small villages dispersed throughout very difficult to access areas. Residents are being warned to evacuate any damaged buildings for fear of strong aftershocks that can hit with enough power to crumble weakened structures.
We continue our call for support, and to help raise the emergency funds necessary to save as many lives as possible but most of all at this stage to help survivors to live, eat, and find a shelter before monsoon strikes.
To date, the EXO Foundation has donated a fantastic $9,587 to a variety of organizations including Phase, a local organization doing outstanding work in Nepal's more remote communities. This has been a superb start but the support needs to continue.
Of this amount, over $5000 was donated by the EXO Foundation, and $530 was given by individuals directly to Topka in Tibet and other projects hand-selected by the foundation. $517 was raised by EXO Cambodia, a staggering $2101 from EXO Vietnam, $426 from EXO China and $700 from EXO Indonesia.
Furthermore, Erik Meriot, our GM of Indonesia, is aware of someone in Nepal who needs help so the EXO Foundation searched for a way to help his village. Phase were a wonderful help in this matter and offered to mediate the support we send through via a women's group, active in this hamlet of Dalit in Bandipur, on the road between Katmandou and Pokhara.
The EXO Foundation is sending $2500 to Phase for this purpose and will monitor closely how effective this is. If it proves to be an efficient way to get much needed support to the places it is needed most, further funds will be sent through.
If you wish to donate any funds to support the emergency work being carried out across the nation, we recommend the following organizations. All of the below organizations already have programs in place and funds can be put to immediate use, every second counts:
– Surkhet association for disabled children founded by Ganesh Rawat providing day treatment for kids in needs and supporting their families. $1,200
– Phase: A superb organization supporting small, hard to reach, and remote villages – Some of the most difficult places to get aid. The EF has donated $2,700.
– We Help Nepal: A group of long-term residents in Nepal, who know how to reach the right people and the right places and contribute directly to individual communities and specific projects they know through their previous work on the ground. We Help Nepal will distribute funds to transparent, trustworthy grassroots groups that take a regenerative approach. 100% of all donations is allocated to relief and tax deductible for US citizens. We have given $2,700.
– Karuna-Shechen: A worthy organization founded by Matthieu Ricard, recipient of the French National Order of Merit for his humanitarian work, a Buddhist monk for decades, and friend and translator of the Dalai Lama. EF Donated $1,000.
– ROPKA: A charity set up by a Scottish Abbot and one of the few organizations that has managed to gain permission to work in Tibet, and develop sufficient trust with the Chinese authorities to be trusted to have free reign in developing schools and health centres throughout the country. They became the largest donor in Tibet a few years ago and are now supporting efforts to secure emergency relief for Nepalese and Tibetan victims of the earthquake.
– Medecins sans frontières: One of the best emergency and medical relief organizations in the world.
– Action contre la faim: French and UK based organization focusing mainly on food security – A great way to support food/water/supplies, etc.
– Save the children: Targeting support primarily at children but providing relief for all families – 1 million children are reported to be seriously affected from the recent events.
– OXFAM: Specialized in development projects on site -OXFAM are able to cater for many different aspects of the relief effort.
– Handicap-international: Specialized in humanitarian relief, medical assistance and providing prosthesis.
Alternatively, you may donate directly to the EXO Foundation and we will forward the funds to one of these charities for you.