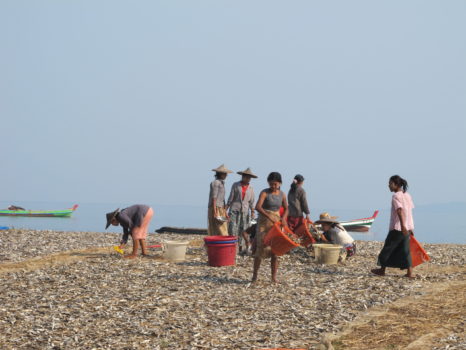 Emergency relief operations to the people of North West Myanmar
2015 monsoon is turning into a tragedy in 4 regions of Myanmar declared Disaster zones by the government, where thousands of people are in total misery and have lost every thing escaping deadly flash floods and landslides. After enduring weeks of heavy rains, Myanmar absorbed another heavy blow at the end of July, when a cyclone in the Bay of Bengal came ashore, bringing new damage and flooding. "The heaviest affected areas are among the poorest states in Myanmar," UNICEF agency says. The Rakhine state is the worst hit state.
EXO Travel Myanmar has been fantastic, and has reacted spontaneously and immediately as soon as August 1st to dispatch relief operations bringing basic goods to the victims in several locations; one team went by truck to Magway (Wai Lin Aung, Yan Naing Phyo and Kyaw Swar) and a second one went to Sittwe and Mrauk U (Wai Lin, Ye' Myo Min and Zayyar Min). Basic goods such as rice, noodles, medicines, water, clothes were transported by truck and plane with Golden Myanmar Airline and Air Kanboza who provided free air freight service. The EXO Foundation donated $10,000 and over $800 were collected within EXO Myanmar staff who also emptied their wardrobe to donate much needed clothes.
We wish to express our strong admiration to EXO Myanmar who gave money and their time such a demonstration of solidarity and generosity is simply remarkable.
Zayar Min our Adventure supervisor who leads the Rakhine rescue team reports today on August 7th:
'Yesterday we arrived in Sittwe and stayed overnight in a monastery. Today we have arranged the packings of contribution goods. Then we hired a truck as we had decided to go to Mrauk U by land ratehr than boat. In the afternoon we also received the delivery of goods from Yangon by plane.
I really appreciate to get the donation from our EXO Myanmar Colleagues (Myat Thadar Donation Team) this afternoon. We can add more rice (30 sacks),dry fish (2 sacks), oil (250 bottles), candles (330 packs) and lights (650 pcs) for another 250 families. This evening we have distributed medicines for each family until 2 AM. "Good Morning Everybody"
Tomorrow we will leave early morning at 5 am to Mrauk U. Then we will continue by boat to the small villages along the upper Laymyo River. We will try to go upstream to very remote flooded villages. We may have to stay overnight at a village tomorrow.'
EXO volunteer teams will unlikely be able to return but we are now in contact with Ngos already active in these areas before this natural disaster and through which we will continue our effort.
Be assured that 100% of your money will be used for victims, the EXO Foundation covers all Paypal fees and only goods are given not money. On behalf of the People of Myanmar, we thank you for your generosity.