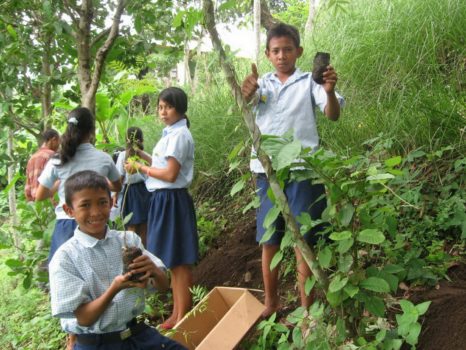 East Bali Poverty Project (EBPP) was established in July 1998 following a plea for help from residents of the impoverished Desa Ban Village. In this isolated 7,200Ha mountain village, made up of  of 19 remote hamlets scattered over the steep,  arid eastern slopes of Mounts Agung and Abang, EBPP Founder and CEO, David J Booth MBE, found thousands of people  living in abject poverty without water, sanitation, roads, schools, health facilities or electricity.
Children were the main victims. Up to 100% of the village's youngsters were illiterate, 85% had iodine deficiency disorders and the majority were malnourished and suffered from acute impetigo, an infectious bacterial skin disease. In November 1998 over 1,000 families prioritised children's education as their greatest area of need; the result was an inspiring and productive collaboration with seven of Desa Ban's most remote communities. The East Bali Poverty Project has since grown to take in the entire village population and children's education remains at its heart
What do they do?
After  launching its  first integrated education programme in 1999, for 35 six to sixteen year olds in the remote Bunga hamlet, EBPP received private funding to open  a further five  schools during  2000 to 2007, which now provide  education at all levels from primary to senior high school. Since 1999 more than 1,500 children have been educated in the Project's schools.
EBPP addresses all aspects of human need, with a key focus on maternal child health, infant nutrition, clean/safe water, hygiene and sanitation and environmental rehabilitation, in order to empower the communities involved towards sustainable social and economic development. Its wide ranging  sustainable projects include  infrastructure improvements;  the provision of safe water supplies; plastic waste management and recycling initiatives;  women's cattle breeding cooperatives and  the farming of sustainable organic vegetables and  herbs,  bamboo for reforestation,   and vetiver  grass to stop erosion and  conserve soil and water.
In keeping with  EBPP's philosophy of "helping people to help themselves", all its programmes are designed as models, fully documented, and carried out  by local people, who transfer knowledge and experience of appropriate technology within their communities so they can be replicated in rural villages worldwide.
How can you help?
All donations to EBPP projects directly help thousands of people move out of poverty towards sustainable social and economic development. The Project has minimal overheads as all its staff are from the villages it supports.
$10  buys 5 early English reading books
$50  funds an organic vegetable garden to improve infant/child nutrition and eliminate malnutrition
$ 75  buys shoes and socks for ten children.
$100  buys school uniforms for ten children.
$200  buys six sets of large world globes.
$250  funds the construction of a toilet/bathroom for one family to greatly improve hygiene and sanitation.
$300  buys a laptop computer for one class.
$400  buys 200 early English reading books for twenty primary school students.
$500  buys six male/female torso kits to assist biology education in EBPP schools.
$1,500  funds vocational skills training for one EBPP school graduate for one year to assist the mountain village development programme.
$3,600  sponsors one year's University education for one exceptional EBPP school graduate.
EXO Foundation support
EXO Foundation has been supporting this project since 2014, mainly by securing funds to build 49 toilets including washing station laundry and personal hygiene. We gave several other donations allowing them to pursue their program and most recently we 've given a relief aid provision following the strong earthquake that took place in September 2017 supporting displaced families by fear of high probability of Mt Agung eruption.