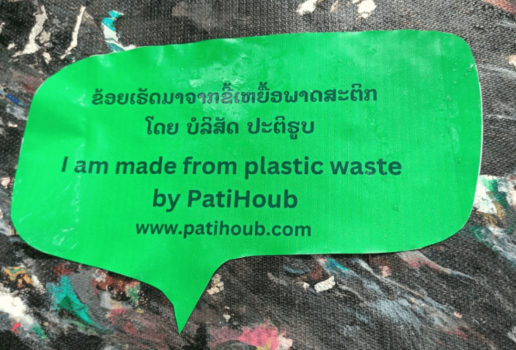 PatiHoub
is Laos' first value-chain focused recycling business and social franchisee of ReForm Plastic, an established business model for recycling started in Vietnam and successfully scaled in Bangladesh, Myanmar, and the Philippines.
ReForm solves the plastic waste crisis through a circular and inclusive approach that converts low-value plastic waste into durable, versatile and premium products through a unique, low-carbon process that creates positive social impacts by increasing income for waste collectors.
The current name of this project PatiHoub come from Pa-ti who means "reform" or "revolution", and Houb meaning : "design" or "image" in Lao language, which together means to redesign plastic waste into valuable products and revolutionize the plastics value-chain.
What do they do?
PatiHoub aims to transform low-grade plastic waste into valuable and marketable products. While reducing plastic pollution in urban and rural areas in Laos through incentives for recycling.
In the meantime of the recycling project they want to raise awareness of local businesses, communities and schools on the health and environmental dangers of plastic pollution and the importance of waste separation. As well as creating jobs and promote a circular economy in Laos by leveraging existing solid waste collection systems, informal waste collectors, and other stakeholders and partners. PatiHoub has installed three collecting point in some temples. The recyclable are collected once a week and the team is monitoring the volume.
EXO Foundation support
Exo foundation will help PatiHoub in the funding of 7 pilot community waste collection points in Luang Prabang. As well as help the project in the creation of communication materials to guide the waste separation at these community waste collection points.