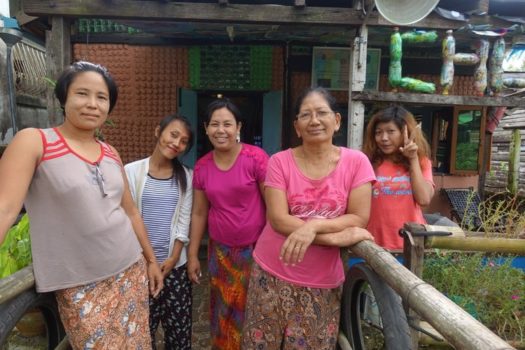 ChuChu is a Myanmar social enterprise re-designing waste material into crafts, tourists can visit the workshop not only for shopping, but also to get hands-on experience to make their own crafts. ChuChu is a workshop space located in Dala Township, on the southern bank of the Yangon River, across from downtown Yangon. Six families work there together to produce & sell crafts.
What do they do?
They work with recycled plastics to create new fabric, which they use to make purses, bags, and household goods.
Product design and marketing – they have developed 7 different techniques and over 60 designs with waste material.
Training – they provide training in schools and for other non profit organizations, teaching them techniques to re-use waste and supporting the setup of handicraft groups, either in cooperation with ChuChu or stand alone.
Raising awareness – with their own workspace which can be visited by the public and make people aware that garbage/plastic waste can be changed into useful materials beautiful crafts.
This group of designers all consult one another in their work; each person has a voice in business decisions from designs to strategy. Together, they set the prices for their crafts and ensure their business is sustainable.
ChuChu is working as a production cooperative negotiating between retailers and producers taking a fixed percentage for organizational development. All families are responsible for continuous development and improvement in production while customer relations are handled by an executive director who is part of a production family as well.
Raw material is sourced by every producing family from their own surrounding relying partly on existing collectors partly establishing new structures. All raw material needs to be segregated and cleaned before further processing Materials come from: dumps, streets, shops, markets.
Plastic film (LDPE: plastic bags and covers)
Packaging (chips, instant coffee mix, etc.)
Umbrella textile
Tube (Bicycle, Motorcycle, Bus, truck)
Tyre (Bicycle, Mining Bulldozers)
Cement and rice sacks
Old cloth
Newspaper
ChuChu items are mostly available in Yangon through main retailers Hla Day and Pomelo, in downtown Yangon, but as well by Clover in Kalaw, Inle Princess at Inle lake. They also have a small outlet at their workshop in Dala, where visitors can get an insight into our production and can purchase products
How can you help?
BUY – their crafts while you are traveling in Myanmar and take a tour to their workshop!
DONATE – to ChuChu organization!
FUND-RAISE – From sponsored walks to donation boxes, there are many ways to fundraise.
PROMOTE – Promote ChuChu through local media by joining their Facebook page
EXO Foundation Support
EXO Foundation has decided to support ChuChu for purchasing new production equipment: rubber sewing machine, heating equipment for plastics, big irons.
Pictures: https://www.crafttalk.org/