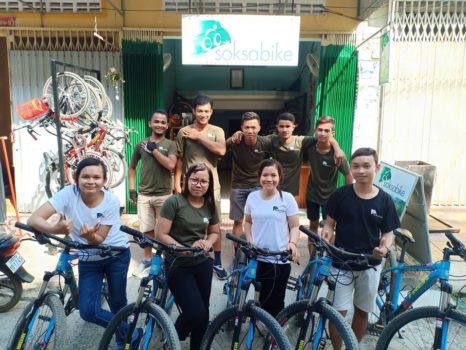 Founded in 2010, as the first bicycle tour in Battambang, Soksabike is a social enterprise that provides young Cambodians with meaningful pathways to employment. Training in sustainable tourism and guiding allows young people to develop transferable skills in English language, tourism and hospitality, operations, and management. It invests the majority of its revenue into its impact programs – vocational training, community development, and cross-cultural exchange – and business sustainability and growth so they can ensure their  programs and impact survive far into the future.
What do they do?
Vocational training is a core tenant of Soksabike's mission, they use tourism not only to develop their own skills, but also to share their amazing culture with travelers from around the world. An important and critical part of Soksabike's mission is to give travelers an authentic experience in the Cambodian countryside, meeting with local families, exploring the culture and learning about Cambodian daily life. Soksabike's goal is that by the end of the tour, travelers feel a sense of connection and understanding to Cambodian life, people, and culture.
Community support is one of mission Soksabike 'respects local families and works very hard to develop its community relationships and to ensure all its partners are happy to work with them.
Soksabike underwent a key transition by transferring ownership of the company to three members of the local team.
EXO Foundation Support
The EXO Foundation helped Soksabike with this transition to ensure the sustainability of the company. This project involved new equipment and the formal legal transfer of the business to the local team; a critical step in ensuring the team receives all advantages of local ownership.
Soksabike prioritized capacity development of the local team as part of this process and sent the two local owners to Ho Chi Minh City to participate in MIST's boot camp for the Mekong Innovative Startups in Tourism competition. EXO Foundation helped Soksabike to invest in their bike fleet allowing them to transition five of their bikes to newer models, that included new biking technology to improve guest safety and comfort.
In exchange for EXO Foundation's support, Soksabike team organized one training for EXO Travel Cambodia Adventure tour guides to share their knowledge and good practices on responsible tourism.