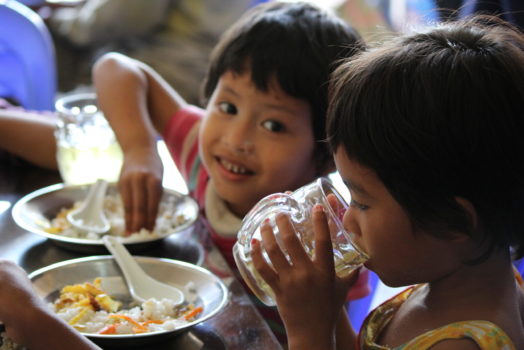 Buckhunger is a private, non-profit organization in operation since 2011 which is run by an experienced North American restaurateur who became concerned about the situation of urban children and adults digging through trash for meals in Cambodia. Established mostly on its founder's savings, Buckhunger's main aims focus on fighting hunger amongst the disadvantaged people of Phnom Penh, as well as offering  young unskilled and unemployed Khmers training to help them change their lives towards a more decent, independent and sustainable way of life.
What do they do?
Since opening, Buckhunger has provided over 75,000 free meals to children and adults in Phnom Penh, and has hired, trained and placed some 30 Cambodians who were unemployed. Throughout 5 months of private instruction, Buckhunger trains their staff with skills in sanitation, customer service, table clearing, food preparation and cleaning up whilst contributing to improve their English spoken skills, too.
Using their cooking and dining rooms located close to the Russian Market, Buckhunger provides hot and nutritious meals for free to those in needs, regardless of their age. Its facilities include storage, bathrooms and sleeping rooms for the staff. With the aim of taking its impact beyond the walls of its dining-room, Buckhunger accompanies the served meals with information on sanitation and cleanliness. Hence, all who eat at their facilities are required to wash their hands with plenty of soap and dry clean towels, while introduced and trained to the importance of hygiene. During the first months, the organization provided children with free flip-flops, thus contributing to reduce the number of kids digging through piles of garbage without foot ware.
Although lack of resources has forced Buckhunger to suspend its training and free flip-flops programs, it continues to provide employment and housing for a staff of 10 locals and supplies more than 150 free lunches to kids and seniors on a daily basis 5 days a week.
Buckhunger has recently started a scholarship program for disadvantaged children to offer them basic education in an English School in Phnom Penh. Each scholarship includes uniform, school materials, 1.5 daily hours of lessons and 1 meal per day during the first year for 1 child.
How can you help?
Your donation directly benefit their needs:
US$ 5        provision of 15 free meals.
US$ 30      month-scholarship for 1 child to get basic education in an English school.
US$ 100    covers all food and costs of preparation of lunch service for 1 entire day.
EXO Foundation support
In 2013 a donation was given to Buckhunger to support their official registration as an NGO and contribute to feed the disadvantaged kids and elders. In 2014, the Herrod Foundation asked our advice as they were looking to support one project, since then Herrod Foundation has given a donation annually covering most of their needs the EXO Foundation acts as an intermediate disbursing monthly allowance and covering any extra needs or gaps when needed.