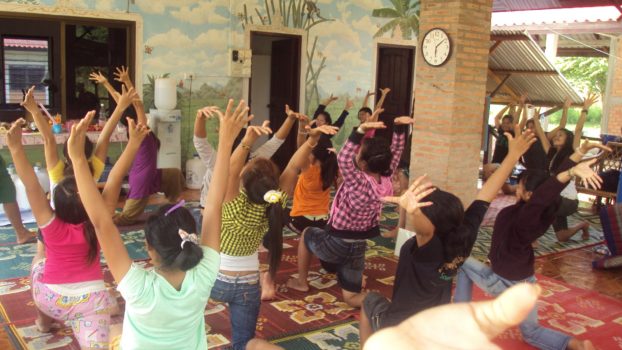 AFESIP is a French non-governmental organisation that began its activities at grass-root level in Cambodia in 1996 before establishing missions in Vietnam and Thailand and then Laos in 2006. Rapidly overtaking the trafficking of drugs and arms as the chosen market for organised crime in Southeast Asia, the trafficking of human beings has now become the third most profitable criminal industry. Lao children and women live in one of the poorest countries in the world and the poorest in Southeast Asia; they are particularly vulnerable to the false promises of traffickers.
What do they do?
AFESIP works to care for and secure the rights of those victimized by human trafficking and sex slavery, successfully rehabilitate and reintegrate victims into mainstream society through financial independence in a sustainable and innovative manner.
AFESIP helps fight trafficking in Laos in a number of ways:
Through outreach activities
The social work team together with peer educators regularly visit women in the entertainment districts, transportation areas (such as bus stations and boat piers) and in villages at risk. The objectives of these activities are to offer information on the risks and routes in order to prevent trafficking and sexual exploitation while distributing hygiene materials.
Trough rehabilitation
AFESIP runs two shelters, one in Vientiane and one in Savannakhet, which not only respond to the needs of sex trafficking victims by offering a safe refuge and psychological support, but also teach them the necessary skills to make a living.
Trough reintegration
After the rehabilitation process, AFESIP supports the reintegration of victims into their communities through sustainable income generating activities. In order to facilitate the process, AFESIP provides a 'business starting kit' (stock for micro-business) to utilise as a source for income generating activities to avoid involvement in trafficking a second time.
Through advocacy and legal activities
AFESIP also enlarges its activities and focuses on legal support for the victims and the development of an advocacy strategy to raise awareness on Human Trafficking and Commercial and Sexual Exploitation of Children (CSEC).
How can you help?
AFESIP is the only organisation in Laos providing this type of exclusive support for victims of human trafficking and sexual exploitation, making its work particularly important. We strongly call for your support to this important cause that gives back dignity and security to these victims of human greed and sexual exploitation.
Your donations directly benefit their needs:
US$ 10 – 2 months of counselling and psychological services for one person or one month of health care for one person.
US$ 25 – 1 month of materials for a woman to learn sewing, hairdressing, weaving, computer training, English, life skills etc.
US$ 55 – three nutritious meals a day for one person for one month.
US$ 135 – all services and provisions for 1 per month, including accommodation, clothing, training, health care.
US$ 1 270 – complete training and reintegration of 1 person into their community plus follow up support.
EXO Foundation support
The increasing sex industry in Laos is a very serious problem with the growth in tourism fueling its demand. Combating exploitation of women in the sex industry is a very difficult area of work as many women feel they have no other options or are tempted by allure of easy money, not grasping the ultimate consequences this may have on their lives.