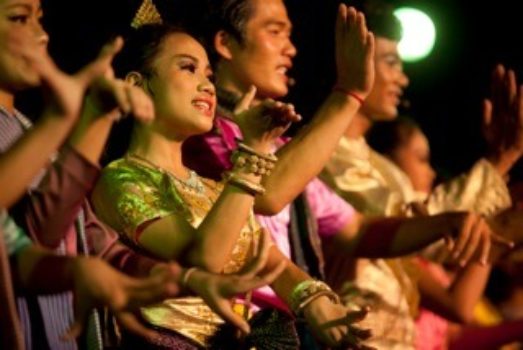 Cambodian Living Arts (CLA) was created in 1998 by Arn Chorn-Pond, a Cambodian-American refugee. His intention was to honor and support master artists of the traditional arts who were in difficult living conditions, as well as to protect and promote Cambodian artistic heritage, identity and memory that was in danger of being lost after the Khmer Rouge war. Nowadays, CLA aims to promote arts sustainability on a national scale and raise awareness globally on the meaning of being Cambodian, creating a sense of unity and shared culture among individuals through education on community arts, capacity building and creative industries.
What do they do?
CLA's program is composed of teaching activities and workshops to encourage master musicians and performing artists to resume working with young apprentices, whilst providing them with a classroom space, instruments, a living wage, transportation support and basic medical care.
CLA helps promising youth to further their arts education by awarding them scholarships and providing them with real-world training and mentorship to support their growth as professionals. They also work to develop the existing arts sector by building the expertise of arts supervisors and managers.
CLA focuses on improving job opportunities in the country's broader arts sector. They work with leading Cambodian directors to create successful performances, attracting paying audiences – both local and abroad. Products from musical CDs to on-site tours are sold earning revenue for CLA that can then be used to pay artists a competitive, living wage.
Nowadays, CLA supports 37 master musicians and teachers, and nearly 500 students.
How can you help?
Ask your travel agent to include in your trip:
– A visit to one of CLA's shows at the National Museum of Phnom Penh to be mesmerized by their traditional dances and theatre plays on Cambodian culture and life within an exceptional setting.
– One of CLA's Living Arts Tours to go see their work first hand in a way that is culturally sensitive, authentic and that benefits the artists as well as the arts in Cambodia. Each tour creates paying jobs for young artists and Cultural Ambassadors and helps them cover their costs to provide arts education across Cambodia.
– or, choose among CLA's wide offer of shows and book a private performance to give a special touch to your own celebration, or an incentive program.
Your donation directly benefits their needs:
US$ 20     gives a student access to art classes as part of the Community Arts Education program for 1 month.
US$ 100   provides a scholarship for an outstanding art student to develop his/her artistic abilities
US$ 240  sponsors one seat of CLA's Plae Pakaa season of performances, as part of their Creative Industries program.