Wantipa 'Fang' Patumanon – EXO Thailand
Please introduce yourself. What do you think about sustainability in your daily life and how to apply this knowledge to your work ?
I am Wantipa, or Fang for short, and I work as a Product Supervisor. In my opinion, sustainability has become more important in my daily life. Before stepping into the EXO family, I have to admit that I have never really concerned much about this topic.
But EXO has really changed my perspective about it, encouraging me to do stuff that I rarely ever think about, like using non-plastic straw (trying to completely avoid using plastic ones), printing with the font that helps reduce the waste of chemical ink, and so on. I have tried to say no to plastic whenever I buy stuff from convenience stores or supermarkets.
Also, as I work in the product department, I really do care about sustainable products, what products we should or should not offer, like the Elephant Camp with shows, even whenever there is a new product related to animals, it gives us in the team thinking if this is really sustainable, etc.
Sustainability actually offers more than rules telling us what to do and follow; it's really more about serious practices as well as sensible consciousness that reminds us all what we should do or offer. In end, we would be surprised how sustainability could really, perhaps totally, change our life. In the future, I expect sustainability really going more global, into every community, every nation, because it's not only your life or ours, it's involved with everyone living in this world!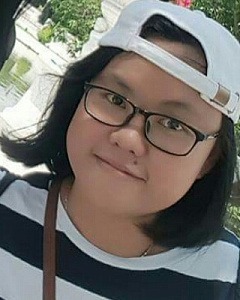 Phonexay 'Mee' Thammavongsa – EXO Travel Laos
Laos had it first re-certification audit last November – it was a great success! Our auditor Nicolas interviewed staff from Inbound, Product, HR, Ops, guides and drivers. He also asked a few questions to Mee, who does a great job in sharing our sustainability initiatives!
How did you feel during the audit, Mee?
"The interview by Auditor Nicolas took me back to the very first day when we were introduced to Travelife. We were excited to learn new things but it was also challenging to start for better changes. Amazingly we've come so far to involve our EXO people and promote sustainability with our suppliers and agents.
Being able to contribute to our sustainable policy with our clients (such as being responsible for communities as well as being respectful for human rights and protection of animal welfare) is another thing that I'm proud of in my job as a Travel Consultant. Travelife has also changed my life in several positives way.
It raised my awareness about protecting the environment and saving energy. Now I always use the e-signature for any contracts with agents and suppliers instead of printing a lot of documents and wasting a lot of chemical ink and papers. I always turn off any electric devices when not necessary either at home or in the office. Travelife can change my life, it can change yours too."