EXO Travel collaborates with "Artisans of Angkor"
We are proud to welcome Artisans of Angkor as a partner to join our efforts on reducing waste and fighting the worldwide plastic curse. Mr. Vichea and Mrs. Sokuntheary, volunteer for EXO Sustainability Team, shared our best practices on waste management at office and raised awareness on individuals plastic consumption.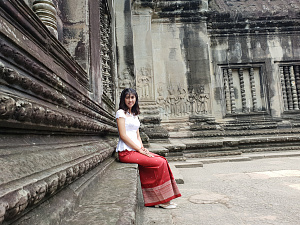 Mrs. Sokuntheary MAY – Travel Consultant at EXO Travel Cambodia & Sustainability Team member
"It was a pleasure for me to conduct a training at Artisans of Angkor on plastic waste reduction. I hope what we did, even if it was a small workshop, could make an impact on the environment and the whole society in Cambodia.
In addition, it's great to know that EXO Travel and Artisans of Angkor are working together for a more Responsible tourism."