Last April, Indonesia had its first Travelife audit and has became the 6th Travelife certified EXO destination.
It is a great reward for the EXO indonesia team, that has been fully involved since the beginning. During the audit, Travelife auditor met people from each department of Bali office. He has assessed the staff knowledge on sustainability and the commitment of the whole company and evaluated how do people in EXO relate to sustainability in their daily work. Overall, he has pointed out very positive outcomes! Congratulations EXO Indonesia – a well deserved recognition of your efforts.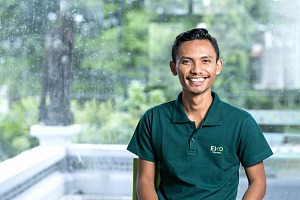 Testimony by Akha from EXO Indonesia:
Sustainability is a way to express our kindness to earth. As Robert Swan said, "The greatest threat to our planet is the belief that someone else will save it". But, EXO Travel Indonesia doesn't have that belief. As an important part of Indonesia's travel industry, we commit to take part in saving the planet. By having the Travelife certification, we are now at the beginning of the next step to give a bigger contribution to Mother Nature. We will not wait until the water in the well is dry. We will act, we will persuade and we will move toward a more sustainable world! -Akha Zakariya Fuadi.