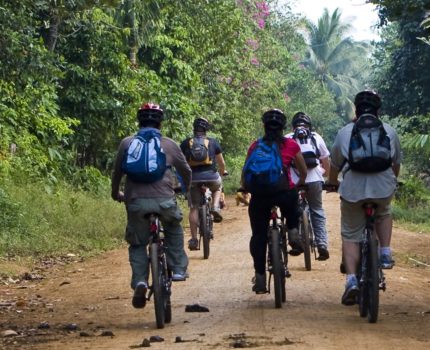 Wildlife Alliance is an NGO based in Cambodia and New York, founded in 1994 as the Global Survival Network, and working in Cambodia since 2000. Nowadays, they are the leader in direct protection to forests and wildlife in the Southeast Asian tropical belt. Their mission is to combat deforestation, wildlife extinction, climate change and poverty by partnering with communities and governments. They have implemented cutting-edge conservation programs in Southeast Asia, Russia the Galapagos and the Western Pacific. These programs aim to protect the rainforest, preserve the watershed, and stop the illegal wildlife trade through direct action on the ground.
What do they do?
Wildlife Alliance focuses on direct action on the ground to work towards habitat preservation, environmental conservation, and poverty alleviation.
Their forest programs tackle forest degradation and diminishing biodiversity in the wild; their community programs empower local people towards sustainable practices and incomes; their wildlife programs protect and care for endangered and trafficked animals; their education programs help bolster their conservation work in the long term through education; their advocacy programs coordinate their efforts with policy and decision makers both nationally and internationally.
Wildlife Alliance also launched two Community-Based Ecotourism (CBET) projects, one in Chi Phat commune in 2007 and one in Trapeang Roung Village in 2011, with the participation of poor families who had been burning the rainforest to cultivate their crops and hunting wildlife to sell to traffickers. Due to a micro-credit system, capacity building, and investment in village infrastructure, former slash-and-burn farmers now have the opportunity to participate in sustainable enterprises, including becoming guides, homestay and guesthouse owners, cooks and restaurant owners, and motor taxi drivers.
How can you help?
Ask your travel agent to follow one of their Community-Based Ecotourism activities, providing a wide array of green activities suitable for all ages and skills, including: adventure options for mountain biking, bird watching tours, sunset dinner cruises, or a relaxing stay in a calm and comfortable lodge overlooking the river. You may have a chance to spot one rare specie, but be aware wild animals usually avoid humans for obvious reasons.
Visit Phnom Tamao Wildlife Rescue Center, which is home to more than 1,200 animals rescued from the illegal wildlife trade. The center provides visitors a chance to view some of the dozens of Southeast Asia's most endangered and vulnerable animals living there, including tigers, elephants, sun bears, leopards, gibbons, rare monkey species and Siamese crocodiles.
Your donation directly benefits their needs:
US$ 5          One day salary for community member working on trail development
US$ 18        One education session at community schoolhouse
US$ 60       GPS battery for trekking guide
US$ 100     Support for a grassroots business in the village
US$ 200     New camping equipment
US$ 220     New uniforms for community ranger team
US$ 250     Support for the CBET members' monthly meetings
US$ 500     Upgrade community waste management system
US$ 1 000  Improve traditional boat fleet