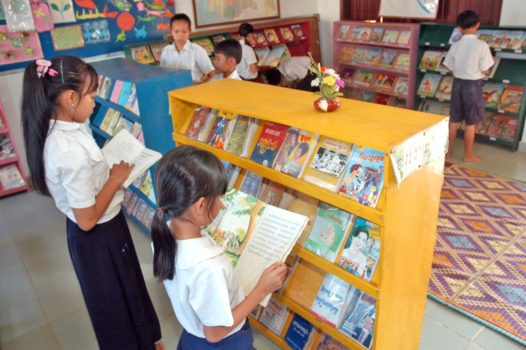 Sipar is an international non-profit organization created in 1982 in France to work on refugee camps along the Thai-Cambodian border, with the original aim of teaching French and introducing French Culture to Cambodian refugees to facilitate their integration upon arrival in France.
After a few years, Sipar was officially established in Cambodia, assisting in the rehabilitation and development of the country, damaged by nearly three decades of war during which many scholars and intellectuals were victims of the Khmer Rouge regime. Sipar's mission is now to fight illiteracy, in collaboration with the Ministry of Education, local authorities and communities, by offering children and disadvantaged people access to a quality education in Khmer language while developing school reading, public reading and publishing fiction and non-fiction books.
What do they do?
To achieve this mission, Sipar has developed various programs:
– School Libraries: Sipar  has created a network of 230 primary school libraries and 6 secondary school libraries throughout the country, in collaboration with the Ministry of Education and local authorities. Sipar is also training librarians.
– Reading for All: Sipar , has established 26 reading centers in remote rural villages, 11 reading corners in hospitals in partnership with UNICEF and 11 libraries in prisons in order to offer the local population a space for reading, learning, playing and access to documents.
– The mobile library tours: 8 mini-vans converted into mobile libraries are running today in 100 sites across the outskirts of Phnom Penh, in Kandal and Kompong Speu Province, bringing books to life through public reading, organizing reading activities and offering free book lending for all.
– Sipar Books: Created in 2000, it publishes educational and leisure fiction books in Khmer, with the aim of providing access for Cambodian children, teachers, educators and general public to a variety of good quality books corresponding to their tastes and needs. It also trains in the professions related to the publishing sector.
– Pro-poor program: Sipar builds the capacity of commune councils in designing, implementing and managing education development plans and projects, while providing tailored educational services based on each commune.
How can you help?
Your donation directly benefits their needs:
Help Sipar deliver new books in the reading places implemented through its various programs. Because of the huge success of these reading places, more books are needed:
US$ 50       buys 20 books
US$ 100     buys 40 books
US$ 300     buys 120 books
Sipar creates books for all age range and reading levels. Prices: 1 to 3 dollars each, with the revenue from sales helping Sipar to reproduce more copies of the same books. You can get your Sipar books in any major bookstore in town, or directly to Sipar offices in Phnom Penh (#9, Street 21).