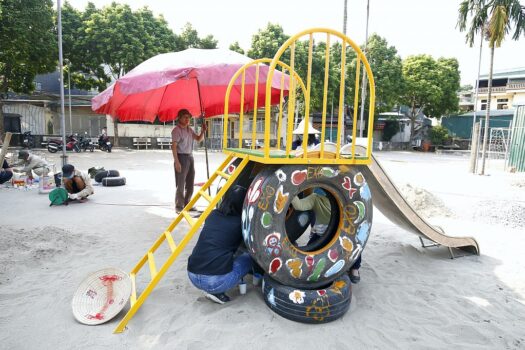 Based in the city of Hanoï in Vietnam, Think Playgrounds (TPG) is a social enterprise since 2017 with a mission to promote children's "Right to play", through joint efforts with urban residents to build playgrounds for children, community gardens as well as renovate friendly and inclusive public spaces.
What do they do?
Think Playgrounds believes that qualitative public space built with the community is fundamental to achieving social equity, to increase life quality and community connection of urban citizens, also is the most sustainable solution for children living in cities in Vietnam to have a playful childhood.
We estimated that around 500 – 800 children are currently living in the neighbourhood and the local community wanted to have a small playground for their children to play safely in a closed area away from the hustle and bustle of local traffic.
By the end of 2020, TPG and partners built 200 public playgrounds and community gardens, piloted the first adventure playground model in Vietnam and organized over 30 public playday, playstreet, loose-part play events in Hanoi and Ho Chi Minh city. The commercial part of TPG has built nearly 100 playgrounds for private schools, educational farms and new urban areas. 50% of the benefit is used for renovating public playgrounds in the cities.
EXO Foundation support
Our team in Hanoi had a fun and hard-working day building a playground for the joys of children and their parents in the Linh Nam quarter of Hanoi.