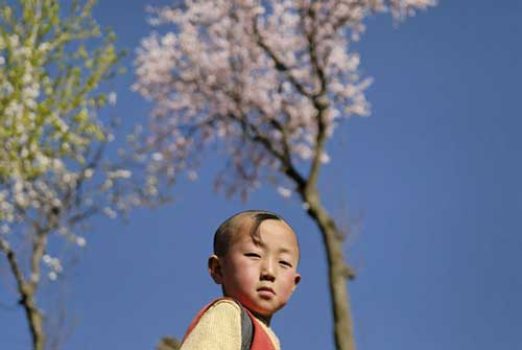 The association was founded in 1999 by Marcel Roux, a former vice-president of Doctors without Borders. His Chinese name was Madaifu, Ma for Marcel and Daifu for doctor. Since then, their key programme, « Orphanage Without Walls », aims to give back their hope and dignity to orphaned children in the remote and destitute parts of western China of the Gansu Province.
They give destitute orphans another chance by supporting them in their studies and keeping them in a safe family environment… supporting them till they can fend for themselves. In 2017, they supported 122 children aged from 6 to 22 (including 27 of them in high school).
What do they do?
Because they know how much importance they give to field work, teachers and local authorities point out to them the children that are the most in need. They visit the children at home and at their schools to assess their needs and to ensure that they can stay with their grandparents, aunt or uncle. When they start supporting a child, they sign an agreement with both the child and its family.
Their help includes a «living allowance» for food and clothing and school fees. Children of Madaifu's local manager and volunteers ensure thorough follow-ups of the children's situation, as well as that of their families and schools. They also respond to local needs, as expressed by the schools and communities.
When Children of Madaifu starts supporting a child and their family, they always ensure that they can keep going until him/her finishes school. This long-term commitment is essential to their work and therefore requires repeated and regular donations.
How can you help?
SUPPORT their annual events in China and France

such as the Apple Day in November in Beijing and Shanghai
Madaifu Express "treasure hunt" in Paris
Support special events with the great artists who already support us such as Prune Noury, Gilles Sabrié, Wen Fang
COLLECT through your own dedicated activities

Invent your sport event to benefit our association
Organise a charity dinner with an auction
Their volunteers, based in Shanghai, Beijing and Paris will be happy to work on your initiatives with you!
EXO Foundation Support
We are very keen to welcome what is our first beneficiary in China. Les Enfants de Maidafu (Children of Maidafu ) as they are fully in line with our values and principles: keeping children in their families instead of keeping them in an orphanage outside of society and their community; no visit to children centers by tourists or donors, no individual sponsoring of children.