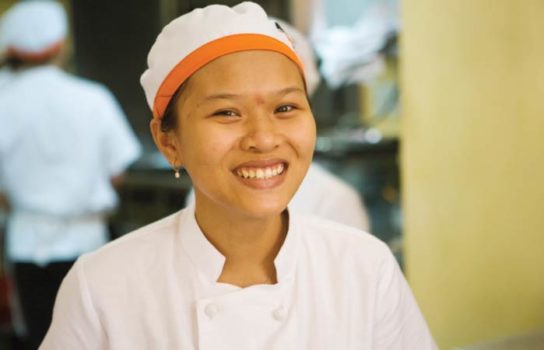 In a few short years, STREETS has proved the power of quality training opportunities to turn around the lives of Vietnam's most disadvantaged youths. The US-based not-for-profit social enterprise offers young adults the chance to exchange a life of extreme poverty for a promising career in the hospitality industry, and in doing so provide critical financial support for their families.
What do they do?
The STREETS initiative delivers professional training in cookery and hospitality services via a comprehensive, 18-month programme developed in conjunction with New York's highly-rated Institute of Culinary Education.
Trainees are recruited from among the country's most impoverished communities: orphanages, street-dwellers and remote parts of the country; around 100 are currently involved in various stages of the programme.
The course combines English language tuition – in a state-of-the-art, 16-station computer language lab – and classes in life skills, exercise and recreation, and all trainees receive full living support including meals, supervised housing, social support, clothing, uniforms and basic medical care.
Between 15 and 20 recruits join the programme every nine months and each year six graduates are retained to train the new intake.
How can you help?
A particularly delicious way of supporting the enterprise is to dine at the award-winning STREETS Restaurant Café at 17 Le Loi Street in historic Hoi An – a typical meal costs between US$ 8 and US $15 – where you can sample contemporary Vietnamese and international fare and enjoy the excellent service. Most of the restaurant staff are regular employees who work six days a week, have social insurance and earn wages equivalent to twice the typical Vietnamese salary (approximately US$ 200 per month).
Your donation directly benefits their needs:
US$ 5             English Language dictionary and notebook for one trainee
US$ 35           One month of daily nutritious meals for one trainee
US$ 50           Safe, secure and supervised accommodations for one trainee for one month
US$ 100         Full living support for one trainee one month
US$ 1800       Full living support for one trainee for the entire program