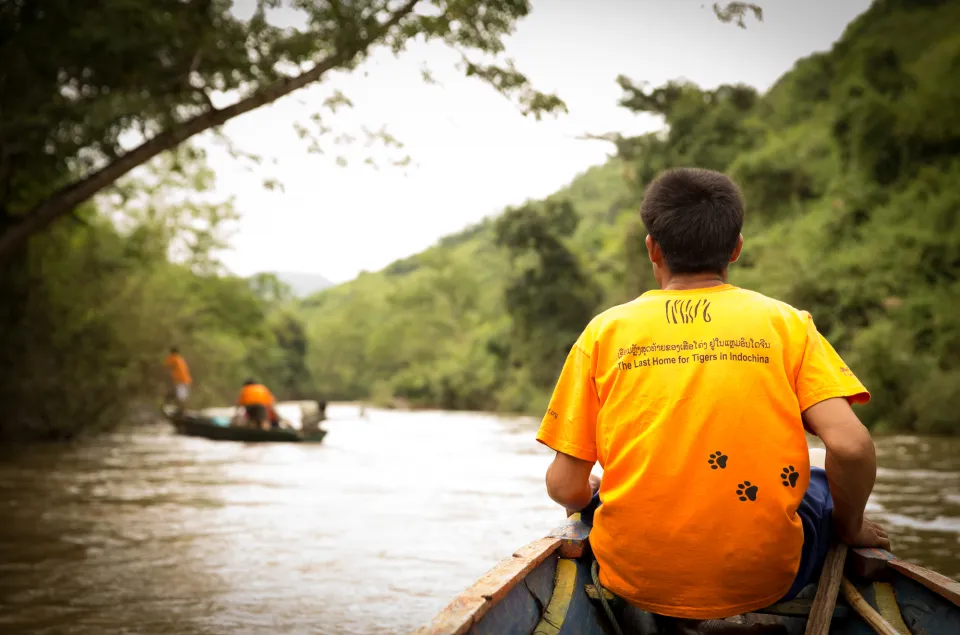 Nam Et–Phou Louey National Park is located in the northeast of Lao PDR. With an area of 410,720 ha, it is the largest of Laos' National Parks covering seven districts and three provinces (Houaphan, Luang Prabang and Xieng Khouang provinces). The area has primary forest remaining in many areas, a high level of biodiversity, and several endangered species including tiger, gaur, Sambar deer, and white-cheeked gibbon.
What do they do?
The National Park aims to maintain biodiversity, increase the numbers of endangered species, and provide sustainable livelihoods for rural Lao communities. For that, the NP established conservation activities with five departments dedicated to conserving the area's wildlife and forests: 
–Enforcement: responsible for patrolling the protected area and its boundaries to stop and prevent illegal hunting, buying or selling of wildlife, logging, plant collection, and other illegal activities. 
–Conservation outreach: dedicated to local people's participation in the management of the Nam Et-Phou Louey National Protected Area. The team also assists village communities and local authorities to negotiate and demarcate village-use areas within the protected area through a participatory approach to maintain traditional agriculture without negatively impacting the wild habitat.
–Monitoring and research: responsible for monitoring the health of the ecosystem and populations of key species, including tigers and other endangered animals, and researching a range of issues including human-wildlife conflict. Camera trapping is done regularly to estimate the numbers and distribution of rare and endangered mammals.
–Land-use management: involves helping villagers to effectively manage their resources to increase production from agriculture and livestock and to reduce wildlife conflicts and forest degradation. Livestock depredation (attacks on domestic animals by wild predators such as tigers and leopards) is one of the most pressing issues at Nam Et-Phou Louey.
–Ecotourism: provide an additional livelihood opportunity for local people surrounding the Protected Area. All tours have been designed to create a direct link between conservation and tourism so that the money that visitors pay has a positive impact on encouraging local people to protect endangered wildlife.
The National Park opened in 2009 the Nam Nern Night Safari, which is a 24-hour, boat-based tour deep into the jungles of Laos. The highlight of the trip is the nighttime wildlife spotlighting when long-tail boats drift down the Nam Nern River looking for wild and endangered animals before returning visitors to the ecolodge within the national park. This adventurous journey allows viewing rare wildlife and is designed to support alternative livelihoods for local people and generate community support for the conservation of tigers and other wildlife.