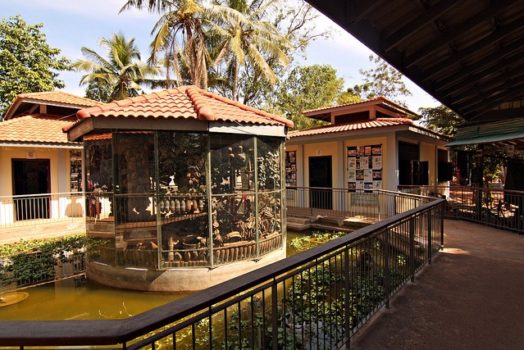 The Cambodia Landmine Museum is a Cambodian NGO based in Siem Reap, run by and for Cambodians.  It was founded by ex-child soldier Aki Ra as a way to tell the world about the horrors landmines had inflicted on his native Cambodia. Cambodia remains one of the countries most severely affected by landmines worldwide, as a result of nearly three decades of conflict. After years as a child soldier Aki Ra returned to the villages in which he had formerly planted thousands of mines and began removing them, by hand, and defusing them with homemade tools. He brought the defused items to his home and it became a tourist mecca.  The Museum was founded.
In the process of clearing small, remote villages, he began bringing home wounded and orphaned children that he and his wife raised as their own, alongside their own children. Today, the Museum operates under a license from the Cambodia Mine Action and Victim Assistance Authority.
What do they do?
Today the Museum not only tells Aki Ra's unique history and the history of landmines in Cambodia, but it also hosts a Relief Facility for at-risk village children.  The money raised by the museum allows this facility to continue. The Museum supports a community of nearly 75 men, women, and children.
The Museum also supports a Relief Center for at-risk village children.  Today it is the home to 38 children.  They are children who contracted polio, were born without limbs, are HIV infected, orphaned, abandoned and/or come from poor families.  They attend public school and their education is assisted by a school program at the Relief Center.  Two Khmer teachers work with them on their public studies.  There is an English language program, a computer lab, a library, an art program, and a playground.  All children are given a university scholarship when they complete high school, or a trade school training if they do not finish high school.
The 'children' are allowed to stay at the Relief Center as long as they are in school.  They currently have 4 children in university, and have 5 who will graduate from high school this year.  All will receive a scholarship.  One of their most recent high school graduates is a 25 year old landmine victim who is now attending BBU in Siem Reap.
The Museum has strict standards.  All children are given free health care, and their home is closed to tourists.  They are NOT an exhibit in the Museum.  We adhere to all standards set out by the Ministry of Youth and Sports for the care of children.
How can you help?
Visit the Museum located 7 km south of the Bantey Srei Temple $3 entrance fee, Free entrance for Khmers and children under 12
A small gift store sells locally made products, books and other items.
Donate to help us develop an audio guide project
EXO Foundation support
The Landmine Museum is one of the responsible tourism activities recommended to our travel partners. We highly recommend its visits.