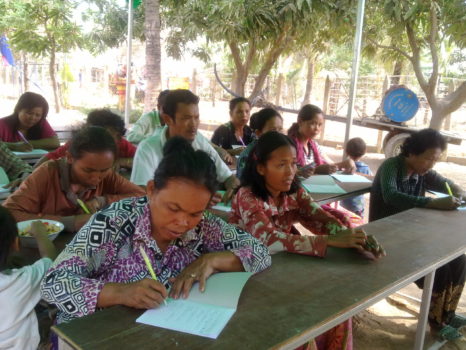 Khmer Association for Development (KAD) is a Cambodian non-government, not-for-profit organization that works at grass root level on effective community development for disadvantaged people. KAD aims to provide technical and human resource development, to rescue the vulnerable people and promote human rights and democracy.
What do they do?
Health care
Since its inception, KAD has set up a Mobile Dental and Medical Clinic for disadvantaged people in Cambodia and conducted various health related activities including provision of oral health care and of nutritious food to rural poor communities, prisoners, orphans and street children in and around Phnom Penh.
Education
KAD provides children between 4-17 years of age with education: Kindergarten, primary curriculum, and out-of-school additional classes teaching English, computer literacy and basic health care and education.
Vocational Training
KAD has implemented vocational training projects with the purpose of creating employment, self-employment and family support income that improves their living standard. Since 1999 several training courses have been opened with several thousand girls and women receiving training.
Media
In 2011 KAD initiated the Khmer Community Newspaper project in order to provide better information on socio-economic issues, developments, human rights and democracy to people living in remote areas and to the country leaders through weekly publications and distribution of newspapers in 17 provinces through Cambodia.
Community Development through Promotion of Sustainable Agriculture
KAD supports The Dok Por Community Development projects in Dok Por Village, aiming to improve community livelihoods by providing short-term training courses on agricultural techniques, self-help groups and community food security initiatives.
How can you help?
Your donation directly benefits their needs:
US$ 100        School uniforms for 10 children
US$ 290        1 camera set to take pictures and videos of the activities
US$ 400        10 bicycles
US$ 400        200 early English reading books for 50 students
US$ 530         More advanced English books for 20 students
US$ 1 200     1 tuk tuk to be used by the center
US$ 1 450     10 sewing machines and sewing materials for skill training classes
US$ 2 150     10 new desktop computer sets to use for computer skill training
EXO Foundation support
This organisation is entirely run and developed by Cambodian people who are highly dedicated to making a difference by supporting the most disadvantaged. Although their core work is to provide extra curriculum courses to children, they've realised over the years that a more holistic approach was necessary and spread their activities to other areas. They run an education center and as such are always struggling to make ends meet. Your support can make a real difference.
The EXO Foundation donated to build a concrete water tank at the Community Vulnerable Children Development Center in Kampong Speu province to store rain water for regular use and consumption.