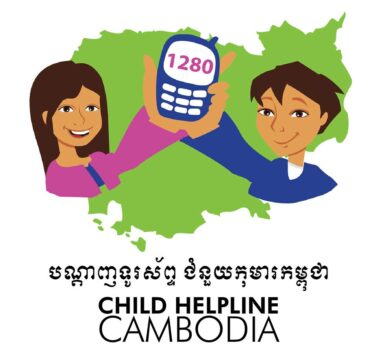 Child Helpline Cambodia is a non-government organisation that aims to promote child rights and build opportunities for the protection of children and youth through the provision of professional phone counselling, information service and referral and follow up service with appropriate partners. The call centre and office are based in Phnom Penh and the helpline services are available all across Cambodia.
What do they do?
Child Helpline Cambodia believes that children and young people have the right to speak and be heard. They provide free, 24-hour phone counselling, information, referral and follow-up services for children and youth up to 25 years old in Cambodia.
They allow children and young people to reach out when they need it, in real-time and speak directly with someone in a safe and confidential environment via the helpline, on the website and through text messages.
Every contact is important for children as phone counsellors provide emotional support and information to make decisions for themselves, or to know about other organizations to receive direct services such as food, shelter, medical care or legal advice.
Child Helpline Cambodia receives between 10,000 and 12,000 calls each month. Some of these calls require counselling support, others are information requests, while others require referral and follow-up.
EXO Foundation support
In 2019, we have worked with Child Helpline Cambodia to promote training on the issue of child marriage. Our choice of intervention was based on the prevalent high rate of child marriage, teenage pregnancy and abuse in the Ratanakiri province, particularly among ethnic communities. They are significantly higher than the national percentages, that is why the project targeted these communities. Child Helpline Cambodia has provided counselling, home visits and a phone helpline service to households and adolescents at risk of and affected by child marriage.