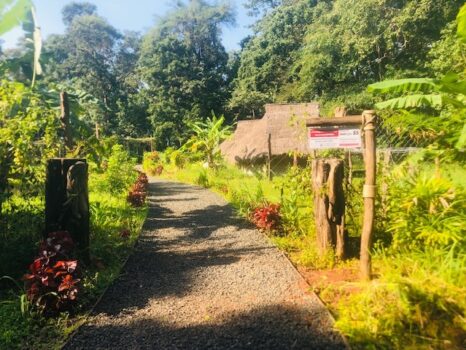 Bousra Eco Park is a Fun Park for all ages and a major tourist attraction in Mondulkiri. They aim to respect and benefit the local people, their culture and environment and value the local communities by educating them in sustainable tourism practices.
What do they do?
Bousra Eco Park is composed of different facilities and activities such as a Cultural Hall, an Organic Farm and a Zipline. Bousra Waterfall is also located in the Eco Park. The activities on site are supervised by the staff who are mostly hired locally and are given the necessary training.
The park also offers wildlife scenery with exotic fauna & flora. A portion of each ticket sale goes into their community by providing some environmental education and basic hospitality skills, to maintain the area into environmental free and full-time forest rangers who patrol at night. The goal is to stop deforestation and to oversee their tree planting programs.
An amount from Bousra waterfall ticket entrance and the zipline activity is spent on developing and maintaining the local infrastructure and supporting several projects in empowerment and microfinance.
Bousra Eco Park tries to operate with limited impact on the environment and work on raising awareness while supporting locally produced products made by their community.
EXO Foundation support
With our help, they have purchased reusable cutlery and given it to the 14 food vendors selling food in the park, they have also implemented a fine for littering and the park is expected to reduce plastic and styrofoam waste by 90%.