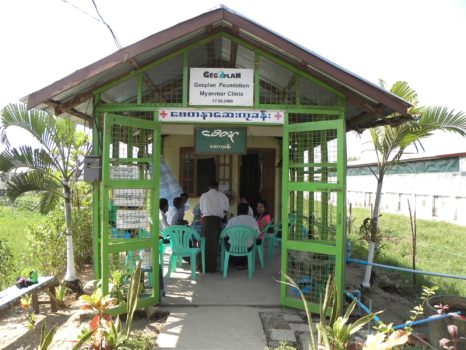 The Village
Ah Lett Chuang village is located on the opposite side of the Yangon River 45mn from Yangon city. The village is low-lying and during Cyclone Nargis (2008) suffered great damage leaving many families homeless. In addition, the main water source was heavily polluted, disease spread rapidly and many farms and gardens were destroyed. Outside donations from our partners in the travel industry have helped to build temporary thatched houses. The EXO Foundation and GeoPlan have then continued their support to the clinic.
The Clinic
The Clinic operates with one doctor plus 1-2 nurses and sees an average of 70-80 patients a week. The basic fee for a visit is 500 -1000 Myanmar Kyat (0.75—1.25 USD) but this fee is waived for those who cannot afford it. Similarly medicine is charged at a very low price or distributed free of charge. This income is then used to pay electricity costs, transportation for the doctors and to re-stock the medicine supplies. The main treatments are for gastroenteritis, hypertension and influenza. In addition to helping Ah Lett Chuang, the staff also organize field visits to neighboring villages. An average of 150 persons are treated every month.
The School
The village has two schools, one is the government school and one is a monastic school. The monastic school is taught by monks and their costs are low. They have also had many outside donations. The government-run school has an enrollment of 500 students. There are 12 teachers and one principal. The school is in very poor condition: many desks, chairs and blackboards are broken, the toilets are unhygienic and there are no facilities for the kids (library/books to borrow, study area, recreation items, etc).
What was done?
GeoPlan, a German tour operator who initiated the clinic project and their clients provided US$ 20,000 between 2008 and 2011 directly or donated by tourists.
Since 2011, the EXO Foundation has taken over and covers salaries for the doctor, nurse, and security guard. An EXO representative visits Ah Lett Chaung on a regular basis and oversees the spending and allocations of funds and donations.
How can you help?
Below are examples of donations you can make to support the village clinic and / or school based on requests they've made. Our priority being to support the clinic please mention in your response if you wish to support the school or the clinic. Activity reports will be sent to donors upon request.
Your donation directly benefits their needs:
US$ 195         Doctor's monthly salary
US$ 70           Nurse's monthly salary
US$ 100         Other staff monthly salary
US$ 25            One field visit or training session to surrounding villages on sanitation and hygiene