How are the "Tips for responsible travelers" booklets distributed to travelers?
We usually give 1 booklet per couple or 1 per family (free of charge) and EXO Tour guide give it to the clients in their city of arrival, either in Vietnam or another country if it's a combined tour. Our goal is to distribute this booklet to at least 25% of travelers, we welcome in our destinations. Please don't hesitate to contact your Sustainability Coordinator if you wish to have more information.
You can download our booklet here:
Tips for responsible travelers – English version
Tips for responsible travelers – French version
Tips for responsible travelers – Spanish version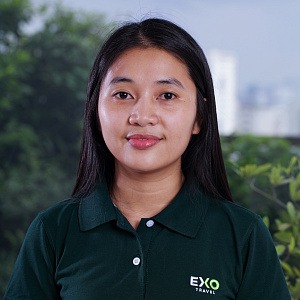 Ms. Truong Tran Phuong Thao – Spanish Department Supervisor – EXO Travel Vietnam
Have you ever read our Tips for responsible travelers booklet? Yes, I have already read it.
What do you think about the content of the booklet?
It is very helpful for clients who travel with EXO. Upon arrival they receive this booklet given by one of our tour guide, they can read it and receive the general information of a country where they will travel to with us. Thanks to this booklet, they will know how to travel with care!
The booklet includes the necessary and useful information for clients and they will be aware of the visit that are not recommended (school, orphanage…). Before we had some requests from the clients on spot asking their guides to take them to schools, their visits were just to know how the school system in Vietnam is organized and how the students study in classes but their visits can affect the students negatively. The booklet supports the guide to explain well why we have ceased such visits for example.