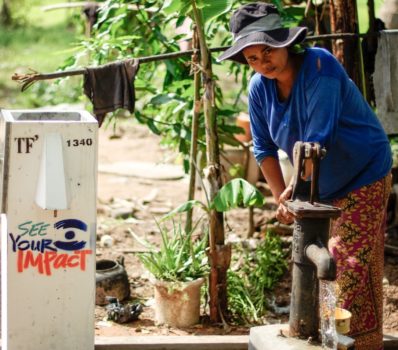 The Trailblazer foundation is an NGO based in Cambodia working at grass root level in different core areas of development (water, health, education, community development) through a participatory approach with villagers. Despite a decade of growth (1994-2004), poverty in Cambodia remains high at 38% Siem Reap – the province where Trailblazer bases most of its projects – is one of the poorest provinces of Cambodia with 30% of its residents living below poverty line. By providing training and appropriate technology, the Trailblazer Foundation empowers rural villagers to create self-sustaining programs and get better life chances.
What do they do?
Cambodia is a country of 14,000,000 with over 9,000,000 cases of diarrheal disease, estimated to be costing the nation $448 million a year. One of the easiest ways to combat poverty and disease is to provide access to clean water sources.
For Trailblazer Foundation, this includes both digging wells to access water, constructing and installing bio-sand water filters to purify both surface water and well water (the latter of which is cleaner than other sources, but is still not entirely safe to drink).
Trailblazer Foundation's Health program primarily focuses on providing clean water to families and villages, and the construction of latrines to help increase a family's, or village's, overall hygiene.
Trailblazer works with our partner villages to build latrines. Latrines may be Trailblazer Foundation's least glorious project area, yet building latrines is another of our important services – especially when it comes to advancing health in the rural communities where they work.
One of the great ironies about life in Siem Reap province is that, while more than two million tourists travel through Siem Reap town each year to experience Angkor Wat, very little of that economic influx makes its way into the nearby rural villages. Without some sort of technical and financial support, these rural communities cannot develop beyond a level of subsistence, and remain in a state of poverty where they struggle to merely survival.
To address this issue, Trailblazer supports our partner villages in managing their own local "Village Fund" micro-finance programs. Through this effort, we provide technical and financial guidance for villagers who wish to start or expand a new small-scale business, or turn a craft into an income.
The wells that Trailblazer Foundation install provide villagers with enough water for irrigation of homestead gardens in all seasons, thereby reducing the effects of regular droughts.
Trailblazer is working with local farmers to increase both their crop yields, and the diversity of crops they grow. For 2018, we have combined our various agricultural trainings in horticulture, soil management, composting, earthworms, and organic pesticides and fertilizers into one comprehensive Homestead Garden training, which focuses on the basics of growing crops for personal/family consumption. The primary goal of these trainings is to foster healthy families and a sufficient year-round food supply.
Although schools are not the Foundation's main mission or focus, when funding permits and request is made by villages, Trailblazer support the construction of public primary schools with the government responsible for paying the staff and providing the Cambodian curriculum.
Trailblazer works to reduce another barrier to education by providing bicycles to our partner villages, so students can travel to schools within their district. This is particularly true of students in Junior and Senior High School, as not every village has one of these schools (they are often shared between villages). Without a bicycle, many students would simply drop out because their secondary level school is just too far away.
How can you help?
US$ 55 1 bicycle (to keep a student in school)
US$ 50 1 Homestead garden training for one farmer
US$ 80 1 bio-sand water filter provides up to 15 people with clean drinking water
US$ 175 1 latrine increases a family's [average 5 persons] overall hygiene
US$ 320 1 PVC pull pump well provides 3 to 5 families with access to water
EXO Foundation support
EXO Foundation donated funds to help them purchase new well drilling equipment & machinery to be used to dig 10 pull pump wells and buy 10 bios sand water filters in Pouk district South of Siem Reap improving the livelihoods of over 150 persons.