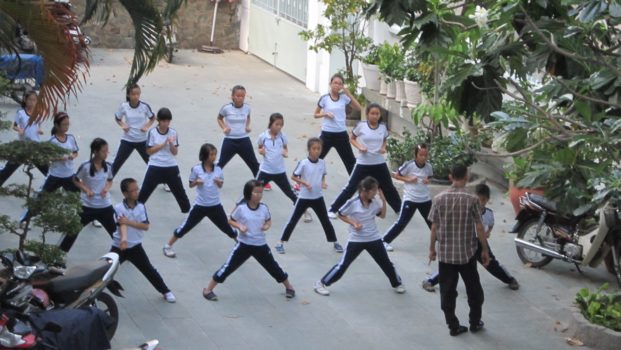 Established in 1986 in Ho Chi Minh City, Hy Vong is a privately run school that provides much needed learning opportunities for children with hearing impairment. The founding force behind the school is Mrs Ngoi, a former Catholic nun who took on lay status so she could carry out her life's mission unimpeded by the government's repression of the catholic community. Since then she has dedicated her time, energy and money to improving the life chances of hearing impaired children. Mrs Ngoi worked for six years at the Lay Thieu school 30 km south of Saigon before starting up her own teaching facility at Hy Vong, in premises provided free of charge by Notre Dame Cathedral.
What do they do?
As regular Vietnamese schools are generally unable to meet their educational needs, hearing impaired children have little chance of learning to read and write and are seen as a burden to their families.
Hy Vong school provides cultural and vocational education to 108 children from kindergarten to high school age, equipping them with the abilities, confidence and self esteem to play a positive and productive role in society.
The school intervenes among families at the earliest opportunity, training parents to understand and cope with their child's impairment and to interact with them in a way that encourages their abilities. Pupils are taught sign language, helped to improve their listening and speaking skills and given a general education in line with a national program.
Tutors also equip them for future employment by teaching vocational skills like tailoring, embroidery, wood working, hair dressing, manicuring, computer drawing and painting. Older pupils produce small craft items such as postcards that are sold to assist fundraising for the school.
Saturday mornings are given over to extra-curricular activities for the over 15s that help them develop social, artistic and athletic skills; and camping trips with children who do not have hearing impairment help pupils improve their ability to communicate confidently with other young people.
How can you help?
Fees at Hy Vong school are kept to a minimum – around VND 550 000 (US$ 27.5) per month plus VND 15,000 (US$ 0.6) for every meal – but 18 of the 108 pupils among cannot afford to pay and are sponsored by the school.  You can help secure a positive future for these children by sponsoring the studies that will make an invaluable difference to their lives. This is a very small organisation and they can't receive direct donation as they do not have a dedicated website. If you wish to donate please contact us.

US$ 24       One uniform
US$ 27       Sponsorship of  a child for one month
US$ 125     Monthly salary for pre school educator
US$ 157     Lunch meals for one year for one child
US$ 215     Monthly salary of a specialist educator for deaf children
US$ 288     Sponsorship of a child for one year
US$ 2 250 Annual salary for a graphic art teacher
US$ 2 600 Annual salary for a specialist educator for deaf children or IT teacher
EXO Foundation support
EXO Foundation has supported Hy Vong School for the sponsoring of nine underprivileged children and the salary of one IT teacher.