Since 2 years, we have been working with EXO Travel on this project involving many stakeholders. In 2016, we have launched  pilot experiences in Cambodia, Laos and Vietnam, with like minded tour operators committed to sustainability. In 2018, we have started to expand this initiative further to Thailand, Myanmar and Indonesia (for Adventure Department). To this day, EXO Travel has distributed a total of 2,300 bottles and avoided using 44,755 plastic bottles!

The bottle: 500ml & Stainless steel
After trying several options, all countries have agreed to follow the same requirements, we are providing 500ml stainless steel bottles. It is a convenient size for travelers and it is quick to refill. As our goal is to give long lasting & sustainable bottles that travelers can bring back home, we have chosen stainless steel over reusable plastic bottles or aluminum which are more harmful to health and to the environment.
Each bottle can be customized thanks to a sticker bearing the name of its owner!
Water stations
We are partnering with vehicles companies to set-up 19L bottles in buses/vans for groups (thanks a special bag that we have designed). We have also designed a smaller format for 5L bottles for FITs. Travelers can refill their bottles in vehicles and place them in cooler boxes (with ice) to keep them cold. Thanks to the involvement of our Operations/Reservations and Contracting teams and with support of our Sustainability coordinators, we are contacting our partner hotels (depending on each itinerary).
We are asking them to provide water stations, either at Breakfast, at the lobby/reception, at the swimming pool, at the bar etc. The idea is to make it convenient for guests to see the water station and to refill their bottles before leaving for a day out. Ideally, we wish to convince them to place water stations next to each elevator, to make it even easier!
Who is involved with us?
In all countries involved in this initiative, we are looking at developing networks of Water stations with support from other DMCs and Travel agents. Thanks to the great efforts our Sales/Inbound/Product teams, we have convinced 16 Agents to join this eco-friendly initiative and achieved the following results: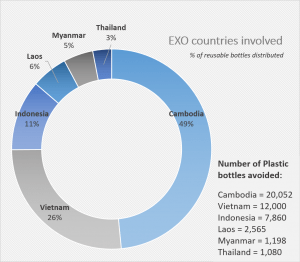 We are always seeking ways to improve our process and to make it easy for everybody involved. TourPlan team is currently working on a new procedure for all countries to input costs & extract data for each clients. Thank you all for your commitment and your participation!