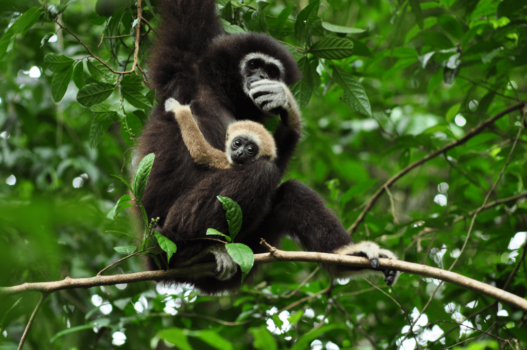 Set up in 1992 by Mr. Noppadol Preuksawan, the chief of the Royal Forest Department in Phuket at that time, Mr. Thavrn Sri-Oon, Bang Pae Sub-Station chief, the Asian Wildlife Fund and an American Zoologist called Terrance Dillon Morin. In 1994, the Wild Animal Rescue Foundation of Thailand (WARF) started to support the project, this is now the research division of WARF.
What do they do?
The Gibbon Rehabilitation Project develops methods to successfully rehabilitate white-handed gibbons back into their natural habitat: The GRP has been testing methods of 'reintroduction' for the past 17 years, treating each as a learning opportunity. This relatively new division of conservation movement is an uncharted terrain for research.
As well as this they campaign to end the demand for the illegal use of gibbons as tourist's attractions and as pets: This is achieved through educating visitors to the Center for Conservation Education and Fund-Raising, the GRP hopes to create awareness of the plight of the captive gibbon and to the role that tourism plays in the demand for baby gibbons.
How can you help?
Possible ways of collaborating with this project include volunteering, making a donation, adopting a gibbon or just including a visit in your holiday itinerary.