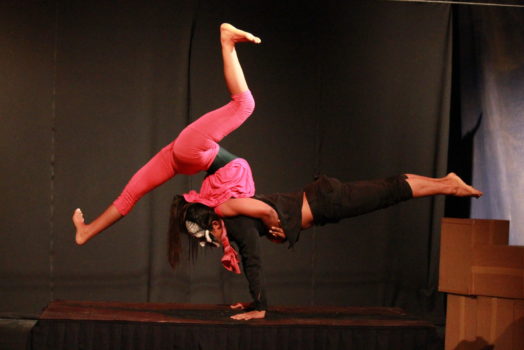 Standing for the Khmer voice 'the brightness of the arts', Phare Ponleu Selpak (PPS) is a cultural non-profits organisation based in Battambang province, Cambodia. It was created in 1994 by young returnee Cambodians from refugee camps to promote and develop Khmer arts in the form of art therapy after the Khmer Rouge genocide.
This NGO collaborates with a variety of international organisations on development, culture and arts to address Cambodian children's needs, aiming to enhance the quality of life of children and their families, as well as to promote Cambodian arts and culture at both national and international levels.
What do they do?
Phare Ponleu Selpak meets the needs of underpriviledged children, young adults and their families through interwoven strands of intervention: social support, community outreach, arts schools and general education.
PPS passionately believes in the power of the arts as a tool for human development and social change. Arts are used to foster expression, but also as a complete set of tools answering children's needs: education, life skills, social skills and personal development. It allows the population to reclaim their cultural practices and to rebuild their identity. It gives them a reason to hope for a better future and believe in themselves. PPS receives foreign artists and perform throughout Europe, Asia, Africa and Australia. 
In Battambang where they are based, two artistic schools form the core of PPS work: the Visual and Applied Arts School (animation, design, drawing and painting) and the Performing Arts School (circus, music, dance and theatre).
Thanks to PPS Child Protection Program, the most underprivileged children of surrounding communities (affected by child trafficking, domestic violence, abandon, disease, extreme poverty, and street begging) can benefit from a nutrition program consisting of three meals a day, free primary medical care and referral, formal and non-formal education and are also provided with school uniforms and materials. Furthermore, hundreds of children are welcomed daily in the Child Development Centre for further creative learning opportunities. PPS supports the public school (1000 children) through teacher training and additional salaries in order to ensure free quality education for all. This proximity allows enriching exchanges with the art schools.
What can you do to help?
Ask your travel agent to attend one of the circus performances, guided tours or art exhibitions organised by PPS, so that you can directly contribute to the enhancement of students' training possibilities and help their career progression.
In Battambang, you can follow guided campus tours (in English or Khmer) and attend one of the 3 circus students shows they hold per week under the big top, which are fun for the whole family.
In Siem Reap, you can support their social enterprise by going to a professional circus show performed by PPS alumni and whose benefits help the growth of the association.
Your donation too can greatly benefit their needs! 
$10 funds the formal education of a child for one month.
$40 funds the social support of a child for one month.
$100 funds the education, the social support and one artistic activity of a child for one month.
$250 contributes to the salary of a skilled professor for one month.
$500 contributes to new state-of-the-art equipment for our Visual and Applied Art School.